Address:
St Patrick's Square, Wyndham St, Auckland
Phone:
(09)368 4129
Rating:
Food 8/10, Service 7/10, Value 7/10, Ambience 7/10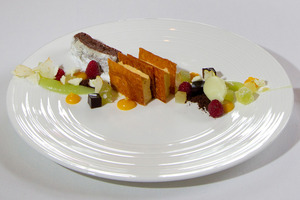 You can have too much of a good thing. Having been a restaurant
reviewer for longer than I care to remember and being an all-round glutton, I am more interested in eating than is good for me.
But we are being overwhelmed by a tsunami of foodery. In addition to a channel devoted entirely to food, it is impossible to turn on the television without running headlong into a prattling celebrity chef, celebrities trying to be chefs, plain folks aspiring to be chefs, neighbourhood bores holding competitive dinner parties and Rick Stein waxing enthusiastic everywhere. There are magazines, supplements, gourmet recipes on tins of beans. While waiting for a warrant of fitness, I picked up Custom Car magazine and was surprised not to find Posh Provender for Petrol Heads.
Enough, enough, we cry, and retreat to visions of living happily on dry toast with the odd lentil for a treat.
But then you visit a restaurant like The Grove and the jaded palate is reborn.
This establishment has had an enviable reputation for years and is a fixture in any list of the best Auckland or, indeed, national eateries. The food has always been exceptional although we have had occasions when the service and attitude have been less than we expected.
On our latest visit, the whole act came together almost flawlessly to provide an evening of some distinction. The food style here might be described as top-end mainstream with sufficient novelty to be interesting but not unduly fanciful or ingenious. What does distinguish it is a uniform excellence of execution.
My first course of roast quail established the benchmark, perfectly cooked and elegantly presented with the smoked onion broth being an exceptional foil, decorated with a faux foie gras and golden raisins. Our other first course was a stylish tuna carpaccio with wasabi, apple, avocado and broccolini.
The choice of main course was testing. The fish here is customarily superb and I was curious to see the nature of the sausage roll listed with the wild red deer roasted in earl grey ash with tomato fondue and fromage blanc. The veal I settled on was meltingly tender but with plenty of flavour and the artichoke was a revelation, being a vegetable to which I am normally indifferent. The whole came with peas and mash or, as the menu has it, "petits pois la francaise with morels and pomme puree".
I cannot say that our various previous encounters with goat meat have always been a pleasure and it came as something of a surprise to find the kid ravioli the most expensive main course on the menu. But the meat was superb and the accompaniment of buttermilk and sweetbreads linger in the memory. The seasonal vegetables with seaweed butter and bacon was more than a routine side order.
The desserts were of a similar standard. The vanilla custard, set just enough to hold its shape, came with an interesting cardamom icecream and the citrus tang of the yazu and apple icecream was matched with a sharp Ballarat apple sorbet.
The service was good but not spotless, with spilled water and the wine and dessert orders being muddled, not enough in all conscience to detract from our enjoyment but lacking the expected polish. A customary irritant was the music featuring tracks which combined the rhythmic complexity of a pile-driver with the apparent length of Mahler 3.
But as the noise level rose from the happy chatter of a mixed crew of customers, from suits to birthday celebrants and affectionate couples, the virtues of the terrific food and relaxed style triumphed to provide a worthwhile evening.

Our meal: $280 for two first courses, two mains, two desserts and five glasses of wine. They also offer a tasting menu at $145 per person with a $90 wine match.
Wine list: The list is spectacular and we were more than pleased with the 2009 Ata Rangi Celebre Martinborough cabernet sauvignon and a fine 2009 Pyramid Valley Rose Vineyerd Marlborough riesling.
Verdict: The Grove deserves its reputation for consistently good food and you can see why it attracts regulars (provided they have deep pockets or a company credit card) and those wanting a sure bet for a special occasion.