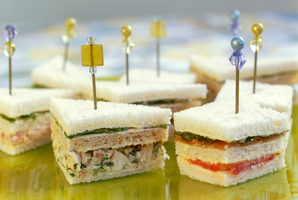 When making small sandwiches, be generous with the filling and seasoning as the sandwich only has one or two bites to make a lasting impression. Use plenty of butter and mayonnaise, as they are sealants that stave off sogginess and dryness.

Makes 24
• 1½ cups finely diced cooked chicken
• 285ml (1 cup + 2 tbsp + 1 tsp) Sandwich
• Mayonnaise (recipe below)
• 15ml (1 tbsp) Dijon mustard
• 3 tbsp finely chopped celery
• 3 tbsp finely chopped Italian parsley
• 3 tbsp finely sliced spring onions
• ½ tsp flaky sea salt, plus extra to taste
• ¼ tsp freshly ground black pepper, plus extra to taste
• 12 slices white sandwich bread
• 6 slices brown sandwich bread
• 200g butter (softened)
• 18-24 leaves rocket (washed and dried)

1. Place chicken, 3 tbsp mayonnaise, mustard, celery, parsley, spring onions, salt and pepper in a small bowl and gently combine. Check for seasoning.
2. On a clean work surface, place all bread slices in 3 rows of 6 with brown bread in the middle row. Butter all slices, then spread with mayonnaise.
3. Generously spread first row of white bread slices with chicken mixture. Season with salt and pepper and cover each with a slice of brown bread, buttered side down.
4. Butter top of brown bread and spread with mayonnaise. Cover with rocket (do not add seasoning) and top each slice with a slice of white bread. Using an electric knife, remove all crusts then cut each sandwich into 4 squares or triangles.
Serve immediately or refrigerate overnight in a plastic container lined with waxed paper. If layering sandwiches in a container, place waxed paper between each layer and on top of sandwiches, then cover with a tight-fitting lid. Remove from refrigerator 30 minutes before serving, keep covered and bring to room temperature. Arrange on a platter just before you serve and skewer with decorative toothpicks, if you wish. Make sure the toothpicks go all the way through the sandwiches.

• Recipe reproduced with permission from Ruth Pretty Cooks At Home by Ruth Pretty (Penguin Group NZ, RRP $65).