It serves up a vast array of meat treats.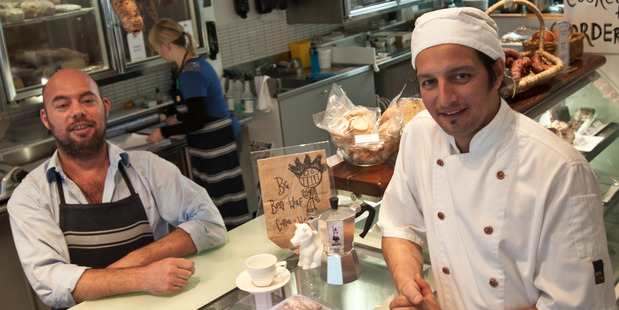 Gabe Hall had an idea to open a little shop where his mate Manni Hunt would make a few sausages out the back and Gabe would pass a bit of wine across the counter.
The idea got bigger and bigger and finally turned into a Big Bad Wolf.
Joining forces with ex-PR gal Julie Powell, these two seasoned players have created something unique. Wellington's Big Bad Wolf is a butchery, a charcuterie kitchen where sausages, pates, terrines, brawns and bacons are produced with creative zeal, a rotisserie for the daily roast pork offer, a shop counter to sell from and a cafe space to serve meaty treats.
And since it's just been licensed, Gabe can also serve you a glass of wine or a boutique beer on tap across the counter.
Your choice of sausage will be cooked to order and served in the pan, with potato gratin and a chunk of bread. You will be offered a spritzer of red wine vinegar to season the meat.
You may prefer to get a French stick filled with slices of the spit pig and crackling, sauerkraut and a ladle of gravy.
Or you could choose a counter option from the daily hot pots, hearty offerings such as pork and swede broth, rabbit cassoulet and tomato and ginger soup made from bacon cured on site. These are all served with bread for a mere $9 a bowl.
If none of this takes your fancy, order from the extraordinary array in the chill cabinet - a pork and prune terrine, tahr, chilli pig's head in brioche, ostrich egg, pork, lamb and tarragon terrine, duck liver parfait or old-fashioned brawn.
Wild venison, tahr, rabbit, duck, ostrich and other free-ranging species are "charcuteried", but the pig is the absolute hero in this place. Sourced from a local farm, these saddlebacks and European wilds have had a sweet life. They roam around an apple and pear orchard before heading to meet the Big Bad Wolf.
It's all very nose to tail. The animals are fully honoured as all their parts are used.
Charcuterie is a special branch of cookery that devotes itself to meat. It originated as a way of preserving before refrigeration and also as a way of making the most of the whole animal. Some aspects take time but it is not beyond the realms of the home kitchen. Manni shares some of his recipes here to get you started.
Apologies to non meat-eaters. This type of cooking is about celebrating all things animal. However, as Gabe quips "the pigs are vegetarian".
Try out these recipes:
* Beef, blue cheese & caramelised onion burger patties
Find out more at:
See more stories and recipes from Grant Allen at foodhub.co.nz