Herald on Sunday Rating: 3.5/5
Address: 12 Darby St, Auckland
Ph: (09) 377 0228.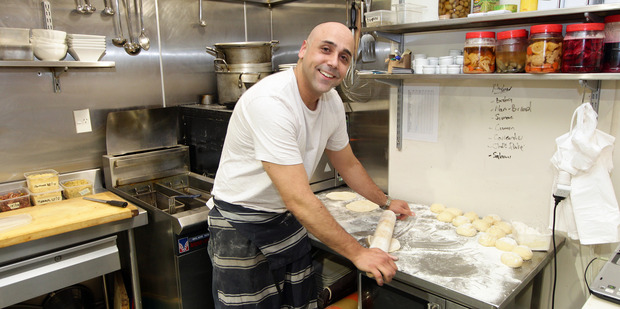 What a splendid job the Auckland Council has made of the so-called "shared spaces" in the CBD: in Elliot and Darby Sts, in Lorne St outside the library, and downtown in Fort St, it looks suspiciously like a grown-up city. They've even got a bit in New Lynn, though it's a bit hard to see what you are walking to and from when you walk on it.
They call it shared space because cars have to share it. With pedestrians. A pedestrian, of course, knows how to share space, but a driver (a pedestrian behind the wheel of a car) has no idea. If you're not actually standing on a pedestrian crossing in a high-vis jacket, pushing a stroller and waving, a driver will mow you down, then clamber out from behind the wheel and say, "Bloody drivers, eh? Think they own the road."
In Darby St, more people stroll past than drive past so it's a good place to open a cafe. This is what Khaled Masroujeh has done. A Palestinian of Jordanian nationality, he was half of Ima/Ibn, a Fort St eatery that served Middle Eastern cuisine.
The other half was Israeli Yael Shochat. "Ima" means "mum" in Hebrew; "ibn" means "son" in Arabic and their story did the rounds as a heartwarming example of how the love of food can transcend deep-seated historical animosity.
Alas, Ima/Ibn is no more. Shochat is still there, trading under the name Ima Bistro but she and Masroujeh have parted company. I understand the parting was not a happy one, but had nothing to do with political differences.
Masroujeh has been away for a while, but recently took over the space occupied by Zaytoon Mediterranean Cafe, whose closure, as far as I can gather, was not widely mourned.
There are only a handful of tables downstairs - one big one is pushed unwelcomingly against a wall as if awaiting the arrival of a group large enough to justify its deployment and the smaller ones are occupied, perhaps too regularly, by young men who peck at their cellphones and jiggle their legs.
My friend Dimitri, a Greek foodie, alerted me to Celine. He has an eye for a good feed, and when he suggests somewhere for lunch, I make a habit of listening carefully to his instructions. We shared
a shawarma (spit-roasted lamb) and falafel (chick-pea fritters) in pita pockets and both were great. The lamb was real meat, not that compressed stuff that tastes like wet particle board, and the patties fat and moist. The accompanying sauces - a faintly spicy yoghurt for the lamb, a zesty chilli jam for the chickpea - were perfect.
So we were a bit distressed when we turned up the next night with three mates, determined to eat everything on the menu and no chilli came with the falafel. "I just made a new kind," said Masroujeh, who delivered some of the food to our upstairs table, "but it's very hot." He leant on the "very" as though drawing a finger suggestively across his neck.
"What do you think we are? Sissies?" we chorused and urged him to bring it on. He was not exaggerating - the chilli was in the high tabasco range on the Scoville scale - but, judiciously applied, it turned
a good dish into a memorable one.
It was one of several. One, called "Sleep with the fish" (an inexplicable hijacking of a Sicilian Mafia term) had prawns, calamari and chunks of seared snapper drowning in olive oil infused with garlic and chilli; the big rubbery chunks of haloumi were of high quality; a slab of steak came in a creamy parmesan mushroom sauce; a mixed grill plate of that excellent lamb and chicken was so large that it defeated our combined appetites.
It was all absurdly cheap (the bill for five barely topped $100) and, washed down with mint tea (Celine is not licensed), most convivial. Masroujeh did, however, fail to convince me about that Turkish-style coffee which I have always thought indistinguishable from monsoon mud.
The service stuttered slightly. Dishes came without serving spoons even though we'd made it plain we wanted to share them and we had to ask repeatedly for more bread. But this was a solid taste of eastern Mediterranean cuisine which is more often done quickly than well in this country. They even have shisha (water pipes) for a post-prandial puff.
Verdict
Mediterranean food with heart and personality.