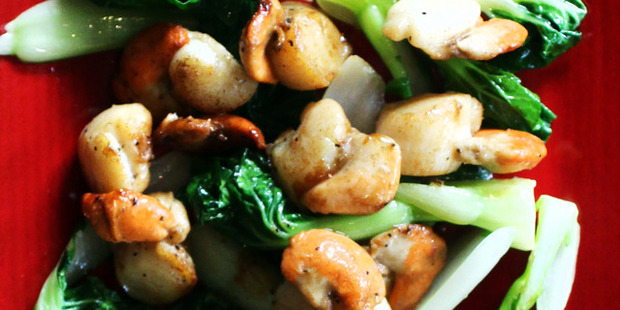 This could be an entree or make it bigger for lunch. Scallops are very rich so 4 per person is probably enough for an entree, or 6-8 for lunch.
1 Pat the scallops dry on a paper towel.
2 Blanch some Fresh Grower baby bok choy. Allow at least one bunch per person. Drain and sit on a paper towel.
3 Peel some fresh ginger and cut it into matchsticks.
4 Finely dice a deseeded red chilli.
5 Squeeze 2 limes for their juice.
6 Set a heavy pan on the element and get 2 tablespoons of Lewis Road Creamery butter sizzling. Sear the scallops in this, seasoning with salt and pepper as you do.
7 Once sealed, flame the scallops in a good capful of Lighthouse Gin and set aside.
Keep warm. You may need to do this in several batches, depending on how many you are cooking for. Keep adding butter for each new batch.
8 Once you have cooked the scallops, toss the ginger and diced chilli into the pan, add the blanched bok chop and keep it moving to warm it through. Pour over the lime juice.
9 Plate up with the green bok choy at the base, topped with the scallops. Add any juices drained from the scallops back into the pan (still on the heat), add another good slug of gin and a little butter. Pour this over the plated ingredients.
Producer notes
Lighthouse Gin: They know how to drink gin in the Wairarapa so it figures they should know how to make a great blend. Distilled in Greytown with all of gin's essential aromatics, this smooth spirit is best drunk neat over ice or made into a very dry "I'll have another one" Martini. Read more about Lighthouse Gin over the page on Cheers.
Lewis Road Creamery: I'm so glad it's kosher to eat butter again, not that I ever stopped. I've always been flummoxed as to why no one was making artisan butter in New Zealand. Well, now they are. Stop buying all those imported brands, you butter snobs, and try this. Restaurants can even get a hand-patted product.
Go back to basics and just have some bread and butter, or go over the top and add a smear of 100% Nutz Really Good Chocolate Peanut Butter.