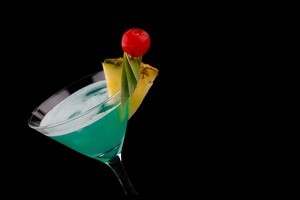 Mai Tais, margaritas, lychee mint muddles - it's music to a cocktail drinker's ears.
There's no better way to cool down on a hot summer's night than sipping a fresh, fruity cocktail. Plus it's more enjoyable and environmentally friendly than turning on the air-conditioning.
According to Grant Collins, a Sydney-based mixologist (that's someone who makes very funky cocktails), Aussies are embracing cocktail culture.
Collins, who runs Zeta Bar at Sydney's Hilton Hotel, says over the past six years that the establishment has been open he's seen an evolution with cocktails.
"When we first opened we were serving 7500-8000 cocktails a month, we're now up to almost 12,000.
"When I first got to Sydney (six years ago) from the UK there wasn't much of a cocktail culture at all - so now it's really exciting."
And don't think cocktails are just for girls. British-born Collins says he sees more and more men ordering them.
"When I first got here a lot of guys thought drinking cocktails was quite feminine ... but it's not like that at all anymore. We sell a lot of Moscow Mules to business men and young guys."
A Moscow Mule, explains Collins, is a mix of Belvedere vodka and home-made ginger beer, served in a little masculine copper mug.
During summer there is an abundance of fruit in season such as pineapples, mangos and strawberries - perfect ingredients for plonking in a blender with a few other special liquids and whizzing into a delightful concoction.
Collins says summer has always been a popular time for drinking cocktails.
He recommends the refreshing Dark and Stormy - a mix of dark rum and ginger beer - for a hot summer evening.
Other favourites are the Tiki cocktails, says Collins, who likes to return to the original recipes from 1930's Hawaii.
"We've got a great drink called the Honolulu, which is a gin-based drink with orange juice and pineapple juice and bitters, which is shaken," he says.
"Also for summer you can't beat a classic Mai Tai, served in a pineapple or a Pina Colada served in a coconut."
Even if the weather isn't so steamy Collins says there is a cocktail for every occasion.
Try a Vespa martini, he says, which is two-parts vodka, one-part gin.
But if you're stuck for cocktail inspiration, Collins has provided his guide for cocktails for every occasion.
* Man offering a cocktail to a woman - "I think a classic daiquiri is a great drink," he says.
Another good ice-breaking drink to liven or lighten the mood is a Tiki cocktail or a champagne Bellini (champagne and peach juice or nectar).
* Woman offering a cocktail to a man - "Offering something that is light and easy to drink (girls) stand a good chance of hitting the mark - something like a Moscow Mule, because there is nothing in it to dislike. They are nice and easy to drink."
* Best fruity cocktail - "An Asian sling is one our all-time classics - it's nice and refreshing even in winter."
A mix of vodka, lychees, fresh ginger, apple juice and kaffir lime, shaken and served long over ice, Collins says it's perfect as an appetiser before a meal.
* Best creamy cocktail - "I don't think you can go past a Pina Colada," Collins says.
* Best citrus cocktail - "A classic margarita or a citrus sorbet gimlet, which is a twist on the 1800s classic which was originally gin and fresh lime. Zeta's version is citrus vodka, with homemade sorbet and fresh lime served straight up in a martini glass. Very zingy and fresh with a citrus kick."
* An aphrodisiac cocktail - "We've done a classic dry martini served with oysters. But we also do a strawberry and champagne martini, which would be a good one to do the ground work with."
Collins describes it as a strawberry martini with a layer of flavoured champagne bubbles, called an emulsion on top.
* Best mood-lifting cocktail - "Drinking a lot of alcohol is not going to be great for your mood so look for something uplifting - something fun, adventurous."
Collins says a Mai Tai, which is served with a sparkler in it would be good. Or a fun, deconstructed edible cocktail where cocktails are transformed into jellies and sorbets.
"Chat to the bar staff and get your mind off things," he says.
* Grant Collin's all-time favourite - "I'm a real classic sort of guy. I like my cocktail to be as classic as possible.
"I like a Vesper martini, (vodka shaken with Lillet Blanc - a vermouth - with a lemon twist in a martini glass) or a straight-up gimlet, made with Boodles British Gin that Ian Flemming and Sir Winston Churchill used to drink back in the '40s.
"In the summer I like a Tiki cocktail or a Dark and Stormy."
Australian lychee and mint muddle recipe
Use this delicious recipe for a basic lychee fruit punch, that can be served virgin, adult or as a frappe.
Ingredients:
1 tbsp caster sugar
20 fresh lychees, peeled and deseeded
1/3 cup fresh mint leaves
1 cup of ice
750ml bottle of lemonade or bottle of sparkling wine
Method:
1 Blend sugar, 10 lychees with mint leaves and ice. Place into a large jug and top with lemonade. Halve remaining lychees and add to the mixture. Serve in chilled glasses.
2 To make an adult version of this muddle; simply replace lemonade with sparkling wine.
3 To make a frappe, blend sugar, 15 lychees, mint and 2 cups of ice. Place into a large jug and top with lemonade or sparkling wine.
- AAP