Find more restaurant reviews with our Google map
Address: 86 Federal Street
Phone: (09) 363 7048
Web: eatatdepot.co.nz
Cuisine: Casual eatery & oyster bar
Rating: 9.5/10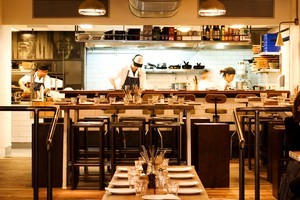 Dining at Depot is like falling in love. With New Zealand. The rustic and charming fit-out of this new Federal St eatery will take you completely by surprise and it will feel as familiar as your old sleeping bag.
You'll recognise the black and white photographs hanging on the walls and printed on the menus, but these are not the same clichéd images that have been gracing our cafes and restaurants over the years of little Italian boys eating bowls of spaghetti or a beret-wearing father and his son on a bicycle with a couple of baguettes.
No, these faces and images are all ours - a couple of young Maori boys with laughing eyes, clutching a handful of sandy shellfish and grinning from ear to ear; a group of men standing around in their thick woollen trousers and the sleeves of their checked shirts rolled to the elbow, big hands wrapped around tall, brown beer bottles; a group of kids greedily tucking into fish and chips straight out of the newsprint wrapping.
You feel like you're in someone's backyard shed or maybe an old boatshed. Either way, it feels like you're home.
The menu headlines with "EAT UP" in bold print - and that's exactly what we did. Tagged as an eatery and oyster bar, Depot has the most incredibly simple and tempting menu that will bring on waves of nostalgia and it will also excite you with how the dishes have been updated to embrace the very best of what New Zealand has to offer today.
There's shellfish and fish, hunks of meat that have been lovingly cooked over charcoal and hard wood to imbue that marvellous smoky flavour, old favourites like lamb's tongue and brisket and, best of all, there's no pork belly or boring old eye fillet. Instead, you'll find cuts like skirt steak and pork hocks. Just reading the menu brought tears to my eyes.
We made sure we sampled some of the freshly shucked shellfish - oysters from Tio Point (flat and briney) and Orongo Bay (more creamy), and cockles and pipis that were so fresh we felt like we'd been digging our toes into the sand ourselves. One of our trio is an oyster aficionado and all he could say was, "Best I've had in New Zealand. Ever. You can still taste the sea."
We moved on to a plate of 100 per cent New Zealand-produced charcuterie of wild pork salami, paprika beef and wild rabbit rillettes, as well as a marvellous plum chutney. Depot's smoked kahawai fishcakes were elevated above the usual by leaving the potato in small, tender cubes and the egg and gherkin mayo really hit the spot.
Battered snapper is encased in small, soft, warm flour tortilla with a green tomato salsa. My only wish was for a bigger hit of the fresh flavours of coriander and lime but these were minor quibbles in the scheme of the culinary heaven we found ourselves in.
Chargrilled lamb's tongue is served in a salad of witloof and celery leaves with crunchy walnuts and soft, pinot-braised shallots. Unbelievably delicious.
We continued with skirt steak and oh, the joy of eating this forgotten cut, smeared with a wipe of stinging mustard. A hapuku belly followed in the "not so common cut but why on earth not" theme and this was a real highlight.
The kitchen had managed to cook the belly in the wood-fired oven so that the flesh retained all of its moistness, yet the fins and skin were crisp, sweet and chewy. With a liberal scattering of herbs, giant green olives and fresh lime segments, this was a true gift from the sea. A whole pork hock came slow-roasted and served with a hit of horseradish and apple salsa. It was soft in places, crispy in others. Divine.
Puddings were a bowl of warmed gingerbread and stewed tamarillos that took me straight back to the warmth of my nana's kitchen and a slice of the simply named "sugar pie", which delighted us with its airy, cloudy-like texture and surprisingly delicate flavour. Depot is unpretentious and just plain fabulous.
And did I mention this is the venture by Al Brown of Logan Brown and television fame? What a very fine job the generous man is doing. Whether he's shucking oysters in the kitchen or taking orders and clearing tables in the dining room, he's in there, boots and all. What a legend.
Depot feels and tastes like New Zealand. It's "us", and it made me feel proud. Thanks Al.
From the menu: Freshly shucked oysters, pipis & clams $2.50-$6 each, charcuterie $24, kahawai cakes $14, snapper tortillas $18, lamb's tongue salad $20, pork hock $29, skirt steak $24, hapuku belly $32, puddings $9-$10.
Drinks: Fully licensed with wine on tap!