Rating out of 5: * * * *
Address: 48 Seddon St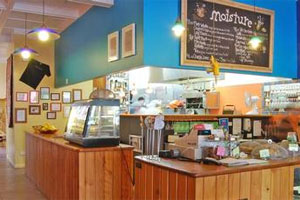 We came here because we were on holiday, staying in Raetihi, near Ohakune, and had been told this cafe was worth visiting.
Parking was so easy. You can park right outside - and no parking meters.
We walked in and immediately thought this looks nice. The decor is welcoming, there is plenty of seating in the front of the cafe, then another room at the back with beautiful stained glass windows and an outside eating area with lovely garden seating.
The most unusual thing on the menu was actually among the "moisture" (drinks) options. Staff told us a ristretto is another word for a short black. The breakfast menu has just eight options - basic but covering all bases.
We ordered eggs benedict ($15), which had ample flavour without being overwhelming; "the lot" - bacon, eggs, tomato, toast, sausages and mushrooms ($18); and poached eggs on toast ($10). The prices are perhaps more than you might expect in small-town New Zealand but the emphasis is on quality, not quantity.
The service was relaxed but efficient. All our questions were answered, although our waiter did have to go back to the kitchen to check which dish was "the lot" and which was the eggs benedict, when it perhaps should have been obvious.
The coffee was great. We like our coffee strong and sometimes have to ask for extra shots but this was perfect.
We recommend if you come here you aren't in a rush. Some customers were asking how long their order would take and that seems to defeat the purpose of being on holiday and taking time to enjoy your food.
Overall we thought Angel Louise is lovely, just like its owner Louise Rangiihu who served us at the counter. If you're passing through this region, pencil in a stop here for brunch or lunch. And definitely keep it in mind for the ski season on inclement days.