Address: Ferry Building, 99 Quay St
Phone: (09) 307 6966
Website: cincin.co.nz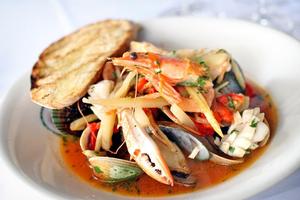 Cin Cin knows what it does - serve good and interesting food - and it does it well.
The evidence is that on a Tuesday night, when many places might have been scratching for attention, Cin Cin was almost full with what I take to be its regular clientele: a few tourists, a couple of groups out for a special night, and Aucklanders who have known this place for years and are always happy to return.
Cin Cin, with its view of ferries and, on this night a huge cruise ship departing, is a place to sit and enjoy this city.
So we lingered over excellent bread and dips - which took a little longer to arrive than expected - and had a glass of wine each before even looking at the menu.
Unfortunately the barman had called in sick so cocktails were off - but rather that than someone trying to whip up something from a manual. And when I asked what the specials were, our waiter - with humour but no hint of smugness - said that everything on the menu was special.
Reading it - simple but evocative descriptions which were mercifully unpretentious - suggested he was probably right. Megan started with cured tuna and salmon which came with a crab mayonnaise and ginger consomme and I was drawn to the prawn and duck salad with papaya, broccoli and avocado with a chilli dressing.
Both were full of discreet flavours and mine was surprisingly, but deliciously, sweet (although I might have wished for more duck.) Megan took my advice on the beef fillet with porcini butter, which I had enjoyed previously ("Perfect. Medium, exactly as I like it") and I went for the bouillabaisse because it sounded loaded: mussels, clams, calamari, fish and crab in a ragout of capsicum and fennel.
These were hearty mussels, very good clams, a squid tube, a large slice of fish and half a hand-sized crab to be wrestled with. Messy and enjoyable, although I felt it was a little lacking in distinctive flavour.
Fennel can be strong but I actually wanted more of it, and more sea-saltiness, to come through.
However, it was still a very fine and substantial dish - and after that, tempting though desserts were, we passed. We had happily sat for a few unhurried hours in a fine location - and if you look at our bill and wonder why it is rated at 8 for value, consider this: we had five glasses of a decent wine.
Take that out and it's pretty good value for money, especially given its location. More importantly, it does what it knows and continues to do it well.
Rating out of 10

Food: 8
Service: 8
Value: 9
Ambience: 9

Our meal: $207 for breads and dips, two entrees, two mains, a bottle of mineral water and five glasses of wine.

Wine list: Excellent local and international selection (predominantly European). Decent options by the glass.

Verdict: Fine food and wine, white tablecloths and a harbour view.