Each week, Wendyl Nissen takes a packaged food item and decodes what the label tells you about its contents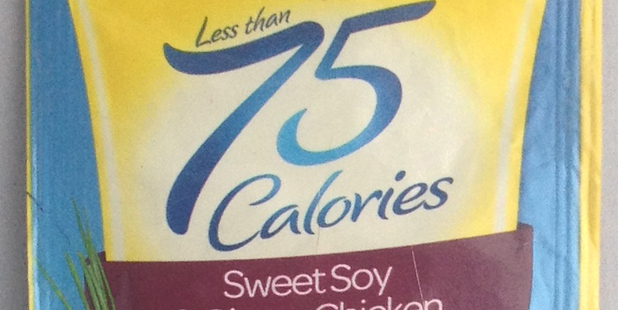 The excesses of Christmas and New Year celebrations are over and many of us would have spent the past week determined to get back to healthy eating and perhaps lose some weight.
This sachet screamed at me from the supermarket shelves with its main message "less than 75 calories" (actually it's 74 calories).
These soups are designed as a snack because they are "big on taste and low in fat".
Ingredients
• Sugar - This is the main ingredient of this soup, coming in at the top of the ingredients list. A cup of this will give you 9.9g or just over two teaspoons of sugar.
• Soy Sauce Powder - [(14 per cent) soybeans, wheat, salt, vegetable oil, maltodextrin, anticaking agent (551)]
Good-quality soy sauce is made from soybeans, wheat and salt. This powder has the addition of oil, maltodextrin, which is a form of sugar, and silicon dioxide (551) as an anti-caking agent.
• Maltodextrin (from corn) - This is a form of sugar made from corn.
• Vegetables (onion, garlic) - These will be dried and powdered.
• Vegetable fat - Not sure what vegetable oil is in here.
• Colour (150a) - This is caramel I, which is the safest of the caramel colours as it has no ammonium or sulphites used in its production.
• Flavours (contains celery) - These will be artificial but also natural, such as celery.
• Flavour enhancer (621) - This is MSG or monosodium glutamate which some people avoid. The New Zealand Food Standards Authority accepts that some people who consume MSG may experience symptoms such as a burning sensation, numbness, chest pain, headache, nausea and asthma but says it is okay to have the substance in food as long as it is labelled.
• Potato starch - This will be in here as a thickener.
• Mineral salt (508) - This is potassium chloride which is a natural mineral salt.
• Herb (chives)
• Spices [ginger (0.7 per cent), cloves]
• Yeast extract - This will be here for flavour. It is similar to Marmite, also a yeast extract.
My recommendations
This soup may be low in fat but it is high in sugar, its main ingredient. Health studies are starting to show it is the huge amounts of hidden sugar in our diet which are doing us harm, not so much the fat, so avoiding sugar in our diets is something many of us are considering. Unfortunately many low-fat foods use sugar to improve the flavour.
I'm also concerned that there isn't much nutrition in this packet of flavour enhancers, anti-caking agent and artificial flavours.
If you want something hot and filling as a snack, get a quality miso paste and drink that. A cup of miso is about 40 calories and should contain nothing but soybeans, rice and salt.
Highlights
• High in sugar at just over two teaspoons per cup.
• Low in fat.
• Contains MSG.
Do you have a food product you would like to feature in Wendyl Wants to Know?Email wendylwantstoknow@gmail.com with suggestions. Unfortunately Wendyl cannot correspond with readers.