Moment of volunteer's incredible escape caught on camera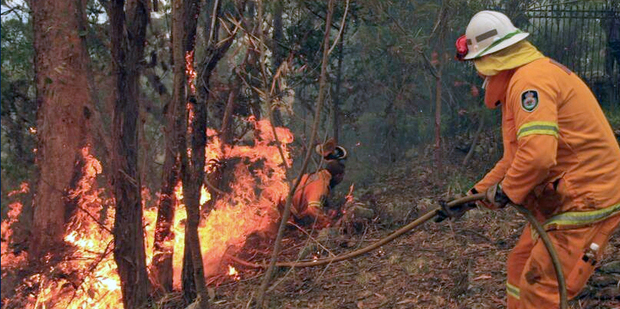 An Australian firefighter who slipped and fell into a blazing inferno - one of dozens raging across New South Wales - was unfazed by the close call and, after clambering out, he picked up his hose and carried on.
Deputy Captain Paul Wilson, a volunteer for the Glenbrook Lapstone Rural Fire Service near Sydney, was working on a controlled back burn aimed at saving properties when he fell into the fire.
Seconds later, he was back behind his hose.
The lucky escape was caught on camera by photographer John Donegan, who spoke to the Herald last night from the fireground near Faulconbridge in the Blue Mountains.
"He slipped as he was going along the fireground. As he slipped the fire literally hopped over him. The extraordinary thing was that he crawled out of it," said Donegan.
"I had the camera up as it happened just by coincidence. I couldn't believe it when he disappeared into the wall of flames. When he crawled out from it, it was amazing.
"He was completely unfazed. When he first hopped out of the fire the look on his face was complete terror. But he patted himself down, he picked up his hose and he kept on going."
Later, Donegan showed Mr Wilson the photo and said the experienced firefighter, who also works full-time at a metropolitan station, was embarrassed.
But when Mr Wilson fell, his colleagues did not panic.
"They never missed a beat, they carried on as normal. It's obviously part of their everyday life," he said.
Fifty-nine fires are burning across New South Wales on the sixth day of the state's fire emergency, with higher temperatures and stronger winds ahead. Seventeen of the fires are uncontained.
Conditions are expected to become much worse today, and one of the largest firefighting forces in New South Wales history will be mobilised.
"The conditions are expected to be actually worse than what we've been talking about for the last few days," said Rural Fire Service commissioner Shane Fitzsimmons.
In addition, he said winds of up to 100km/h would gust over firegrounds and areas covered by total fire bans.
- Additional reporting: AAP
Huge test for fire chief
The New South Wales fire crisis is a massive test for Shane Fitzsimmons, at 44 the youngest Rural Fire Service chief.
He has been using radical and high-risk strategies to hold back the flames roaring through forests and heavily wooded, often almost inaccessible valleys.
He has winched in specially trained remote area teams from helicopters, equipped only with chainsaws, axes and grubbing equipment for back-breaking and dangerous work in the most isolated areas.
- Greg Ansley