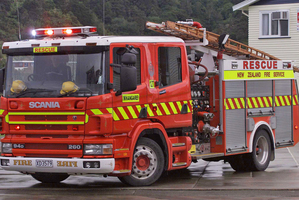 A suspicious blaze that destroyed 200ha of scrub, bush and forestry on the Pouto Peninsula also wiped out vulnerable indigenous flora and fauna.
Helicopters yesterday spread fire-retardant substances on western areas of pine trees as a precautionary measure against the now-contained 200-hectare fire.
A Department of Conservation spokesman, David Mules, said a skeleton crew had monitored the fire overnight Wednesday, but about 80 people were back there yesterday and diggers and bulldozers were continuing to firebreak the area.
A change in the wind pattern had given an opportunity for the preventive work, deemed necessary because of the hundreds of hectares of pine forest along the west coast of the peninsula.
Three helicopters would return to dampening down hot spots once the fire-retardant spreading had been completed.
No families living in the area had been evacuated since the fire began on Tuesday morning.
Mr Mules said the department was optimistic the worst of the fire was over, but not without cost to the indigenous wildlife and biodiversity of the area.
Swamp and scrub land around Punahaere Creek is rich with green geckos, is a known fernbird habitat and home to many indigenous invertebrates.
"Significant damage was done in the first day ... many of species are too slow moving to escape fire ..." he said.
DoC business accountant Alistair Drake could not put a cost on the firefighting effort to date because he had no operational hours or figures at this stage.
"The priority is to protect people and property and to get the fire out or at least under control," he said.
However, he expected to date the cost would run to at least $200,000 and estimated three helicopters operating for 10 hours would cost around $75,000.
He confirmed the department would meet all the interim firefighting costs and then make a claim against the National Rural Fire Fighting Fund.
The costs of fighting the fire on private property would be billed to the owner unless they also belonged to the NRFFF.
The cause of the fire is being treated as suspicious.
Dargaville police would be keen to hear from anyone who may have information or seen movement of people or vehicles in the area.
For more articles from this region, go to Northern Advocate