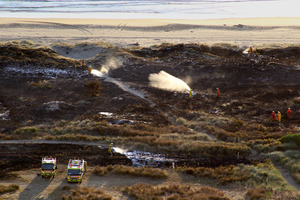 Freedom campers at Ocean Beach fought tirelessly to keep a fast-moving grass fire contained with sacks, shovels and fire extinguishers, as they waited for help to arrive.
Six rural and urban fire appliances from Maraetotara, Havelock North, Waimarama and Hastings as well as three water tankers were sent to fight the blaze, which started sometime before 5am yesterday.
Flames spread quickly through the long, dry grass covering about 1.5ha before being extinguished.
"As we came down the hill it was burning on two fronts but campers had managed to contain the edge which was creeping toward their campground. They did a really good job at keeping it at bay," Hastings District Council principal rural fire officer Trevor Mitchell said.
While the cause of the blaze was still under investigation, it was not being treated as suspicious.
"It wasn't malicious and it's not related to the total fire ban in place across Hawke's Bay."
Havelock North station officer Warren Dochary, who was the first firefighter on the scene, estimated one fire front would have been 100m by 20m, while the other spanned 150m by 30m.
"Once we got down there and started hosing it off, the flames were contained fairly quickly," he said. "Fortunately it was only vegetation damage, which will grow back with a bit of rain, nothing too destructive."
Urban fire crews were on the scene for about two hours, while rural firefighters remained behind to dampen down.
"We have been pretty spoilt the last few summers, but this is the Hawke's Bay as we know it.
"It's about people being responsible with the fire ban because with a little bit of wind it can potentially be very dangerous."
Mr Dochary commended those trying to extinguish the fire using any means available to them. "They did an incredible job trying to stop it from going anywhere.
Unfortunately they were up against the size and the wind."
The blaze followed a spate of grass and vegetation fires in the region, including one which threatened to engulf homes bordering a steep gully in Lane Rd, Havelock North, on Monday. The cause of the 11.40am fire remains a mystery, though an arcing electric fence is suspected.
Mr Mitchell reiterated the importance of upholding a total fire ban, including fireworks, during summer months. "It's still very dry, we have had little bits of rain but not enough to alleviate the danger.
"It may look green but the grass is very dry and fire can spread very, very quickly."
For more articles from this region, go to Hawkes Bay Today