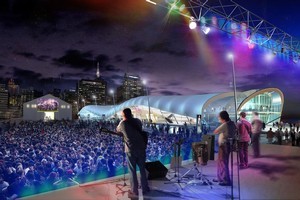 Rugby World Cup hotels and restaurants will hear the lessons learned at the Fifa World Cup in South Africa - and the first lesson is "don't believe the hype".
Chef Pete Goffe-Wood, a veteran South African restaurateur, will be the keynote speaker at the Restaurant and Bar Show in Auckland next month.
"It seems like everyone in New Zealand thinks like we used to think: the World Cup is coming to town! It's the gravy train! This is going to be our year!" Mr Goffe-Wood said.
"One or two restaurants did very well for themselves, and we all did okay ... but the first thing that we learned from here is to always be suspicious of the numbers that [organisers] say are coming.
"Fifa promised us half a million people, but in reality we had 300,000 - that's 40 per cent less."
"You don't want to be laying out the cash, and then find the guys don't come ... Sometimes you make the mistake of believing the hype."
More important than upgrades and redesigns was service - people would return to the bars that were quick with their beer, Mr Goffe-Wood said.
The positivity that the World Cup had created was "phenomenal", he said, but many restaurants and hotels had prepared "too well" and were disappointed.
Cape Town had fallen into believing it would be packed every day, but in reality the city was merely busier than usual for a quiet tourist season when there was no match on.
"You can be enthusiastic without being foolish."
Restaurants should also avoid making too many changes that would put off local customers, such as installing big-screen televisions in a fine dining restaurant, he said.
The Restaurant and Bar Show will run from July 17 to 19 at the ASB Showgrounds.
A total 85,000 international visitors are expected in New Zealand during the two-month tournament, according to organisers, with a sharp spike in Auckland for the finals of up to 40,000.