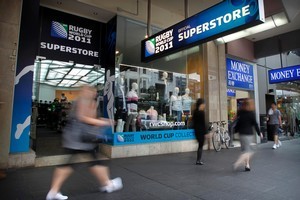 New Zealand hoteliers are being warned of the dangers of excessive price hikes for this year's Rugby World Cup by a top South African hotelier at the soccer World Cup last year.
Clive Bennett, now managing director of the One&Only, Sol Kerzner's five-star hotel on Cape Town's waterfront, says New Zealand needs to learn important lessons from South Africa's experiences at the soccer World Cup last June. Few South African hotels managed to break even during the Fifa World Cup last year.
Mr Bennett, who was managing director (South Africa) of the Red Carnation hotel group during the Cup, said: "People in South Africa have now learned the lessons. But, in many cases, too late.
"Some people in South Africa built on to their houses to create extra accommodation for the World Cup. Others bought Kombis to hire out. But it was all over-priced and South Africa did not get anywhere near the visitor numbers it had anticipated.
"We were told around 450,000 overseas people would come to the country for the tournament. The official figure was said to be 300,000 and New Zealand needs to be aware of these dangers."
Mr Bennett said New Zealand, with its projected $500 million loss on the rugby tournament, was in an even worse situation than South Africa was.
"There is no way the Rugby World Cup is anything like as big an event as the soccer World Cup. I live in Cape Town and watch international TV stations, like Sky, CNN or the BBC. Yet I have still not seen any advertising on any of those channels that tells you there is a Rugby World Cup on in New Zealand this year. It starts in just four months' time but you wouldn't know it existed if you watched those channels."
Some homeowners and hotels have started charging inflated rates for the Rugby World Cup.
A lodge five minutes' walk from Eden Park has increased its rates by up to 1000 per cent. Guests who stay at Bond St Motor Lodge in Kingsland normally pay $31.43 a night for a single room if they stay for at least three weeks. But during the tournament the lodge is charging $350 a night for a single room with shared bathroom and kitchen facilities.
Meanwhile, three- and four-bedroom homes in central suburbs are fetching $400 to $500 a night.
Mr Bennett warned hotel operators: "Don't get too aggressive on the room rates. That is a mistake a lot of people made in Beijing for the 2008 Olympics and here in South Africa last year. People think that for these global events you can push rates through the stratosphere. But you just end up alienating people. "A lot of the reason we were so far down on visitor numbers was, in my view, price. There were so many people in the chain and everyone tried to take their cut. But when it went to market, people couldn't afford it."
New Zealand Hospitality Association head Bruce Robertson said: "If hotels are charging higher rates they're going to have empty beds."