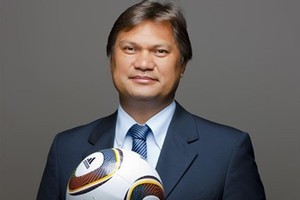 The murky waters of the World Cup got even murkier yesterday as the momentum towards Friday's defining World Cup votes in Zurich gathered pace.
While there are hints that acting Oceania Football Confederation president David Chung is likely to be accorded the right to vote in place of suspended OFC president Reynald Temarii, Fifa has yet to confirm that.
There were strong suggestions that Temarii will forego any right to appeal his suspension, thus clearing the way for Chung to take his place among Friday's voters.
OFC executive members met in Auckland on Saturday to confirm Chung's elevation to the top job in place of Temarii who, as a Fifa vice-president, would have had automatic voting rights when the venues for the 2018 and 2022 World Cups are decided.
But yesterday Britain's Daily Mail reported Temarii returned to Auckland on Saturday after a whistle-stop visit to Kuala Lumpur where he met Asian Football Confederation president and Fifa executive member Mohamed bin Hamman from Qatar.
Some are now questioning why that meeting took place as under the terms of his suspension, Temarii is banned from any involvement in football.
But there have also been suggestions that pressure has been exerted on Temarii not to waive his right of appeal. By appealing, Chung would almost certainly be precluded, thus costing Australia one, perhaps crucial, vote.
Qatar, with South Korea, Japan, and the US are up against Australia in seeking 2022 hosting rights.
Before his one-year Fifa-imposed suspension, Temarii had said he would, on instructions from his OFC executive, vote for Australia.
Under the voting system the Fifa executive will cast their votes in order of preference with the lowest-polling country eliminated at each stage.
There were suggestions that Oceania's second preference, if Australia was eliminated, would be Qatar.
Should Chung (and therefore Oceania) fail to be reinstated to the voting panel it is seen as a blow for Australia who are counting on that support. But if Chung is allowed to vote, the final voting figure would be 23, thus eliminating any need for a casting vote from Fifa president Sepp Blatter in the event of a tied ballot.
OFC general secretary Tai Nicholas flew to Zurich yesterday and could not be contacted. Temarii was asked, through his personal assistant, to clarify the situation but did not respond.