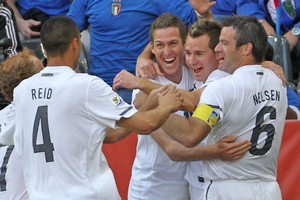 Ricki Herbert has named a 21-man squad for the All Whites' two home matches against against Paraguay and Honduras next month.
Rory Fallon is the only player not considered due to injury, having undergone a hernia operation earlier in the month while Wellington pair Andy Barron and James Bannatyne retired from all football shortly after returning from South Africa.
Barron and Bannatyne will be special guests at the Paraguay match in Wellington on October 12, while Fallon will join the squad in a non-playing capacity if Plymouth Argyle clears the recuperating striker for long-haul travel.
The All Whites also play Honduras at North Harbour Stadium on October 9.
Cole Peverley, drafted into the All Whites camp as injury cover for Tim Brown, is the only player from outside the official World Cup squad of 23 to be named.
"Selecting the 23 for South Africa was among the toughest decisions I've had to make but it was of paramount importance that we give those players who went to South Africa a chance to thank the public for the overwhelming support," said Herbert.
Herbert, who re-signed as All Whites coach for at least the next two years, said the internationals against Honduras on October 9 at North Harbour Stadium and Paraguay in Wellington on October 12 were perfect for recalibrating the sights on a new World Cup journey.
"It's fantastic to have two World Cup opponents here in New Zealand so close after the World Cup."
"It is a great way of concluding the 2010 campaign, but it's also important to announce the start a long hard campaign towards Brazil 2014."
The squad includes three English Premiership players for the first time following Winston Reid's move to West Ham and the promotion of Chris Wood's West Brom back into the top flight. Blackburn's Ryan Nelsen again captains the squad.
Along with Reid, other players to have changed clubs since the World Cup include Chris Killen and Ivan Vicelich (now at Shenzhen Ruby in China), David Mulligan (Auckland City) and Shane Smeltz (Genclerbirligi in Turkey).
As the matches fall in an official FIFA window, clubs are required to release players for international duty.
Goalkeepers
Glen Moss (Gold Coast United, Australia) 16 matches 0 goals
Mark Paston (Wellington Phoenix) 32/0
Defenders
Andrew Boyens (New York Red Bulls) 18/0
Tony Lochhead (Wellington Phoenix) 37/0
Ryan Nelsen (captain/Blackburn Rovers, England) 47/9
Winston Reid (West Ham United, England) 7/1
Ben Sigmund (Wellington Phoenix) 15/1
Tommy Smith (Ipswich Town, England) 8/0
Ivan Vicelich (Shenzhen Ruby, China) 79/7
Midfielders
Leo Bertos (Wellington Phoenix) 38/0
Jeremy Brockie (Newcastle Jets) 21/0
Tim Brown (Wellington Phoenix) 29/0
Aaron Clapham (Canterbury United) 0/0
Jeremy Christie (Tampa Bay Rowdies) 26/1
Simon Elliott (unattached) 77/8
Michael McGlinchey (Central Coast Mariners, Australia) 6/0
David Mulligan (Auckland City) 30/3
Cole Peverley (Team Wellington) 1/0
Forwards
Chris Killen (Shenzhen Ruby, China) 41/18
Shane Smeltz (Genclerbirligi, Turkey) 39/18
Chris Wood (West Bromwich Albion, England) 13/0.
- NZPA