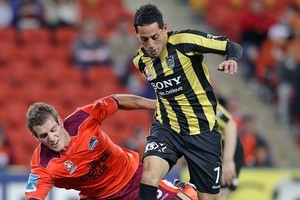 All Whites and Wellington Phoenix winger Leo Bertos insists he is not feeling any effects of a World Cup hangover and is determined to prove just that against Sydney FC in their A-League soccer match here on Saturday night.
Bertos paid the price for a quiet start to the season when he was dropped in favour of Daniel for last Sunday's 1-2 loss to Perth Glory in Perth.
Some pundits have questioned whether his dip in form - and that of midfielder Tim Brown, who was substituted at halftime on Sunday - is related to coming off the emotional highs of a World Cup campaign in South Africa where New Zealand earned three unlikely draws and galvanised the nation.
But Bertos, sporting a blue Mohawk hairstyle in support of prostate cancer awareness, today said that theory was well off the mark.
"People can say what they want to say but I know, for me, that's not the case," he said.
"I had enough rest when I got back and I've been buzzing from the first training session.
"I guess when results don't go our way people start to look for things, but I'm feeling good. Hopefully I start this weekend and get out there and show what I can do."
Bertos, who has lacked his usual attacking spark, said Phoenix coach Ricki Herbert had offered him reasons for his demotion to the bench following a flat showing in the 0-1 loss to Brisbane 12 days ago and he had accepted them.
"I guess the performance against Brisbane wasn't where we wanted it to be and it shows the depth we've got in the squad. That's a good thing.
"If you don't play as well as you should someone will take your place.
"It's definitely woken me up and it's made me get my stuff together."
Daniel took a rare chance on Sunday and was one of the few players to impress with his ability on the ball and distribution skills before he was substituted by Bertos in the 67th minute.
Herbert, who has occasionally given Bertos a week off to "freshen up" in previous seasons, said the speedy winger was in the frame for a return against Sydney.
"At times he slips into these things (form slumps) but I think he'll be fine on Saturday. If he is selected, I think you will see the true Leo back."
Herbert also went into bat for Brown, saying he was confident the All Whites vice-captain, who didn't play a match at the World Cup because of a shoulder injury, would quickly return to form.
"He's a quality player, a great player for the club and he scored eight goals for us last season," Herbert said.
"You've got to manage these players. There's a strong loyalty to these players and we've got to work through it but they're all accountable and they need to deliver at certain times."
Herbert hinted Brown would also be given another crack on Saturday, and with Nick Ward impressing in his club debut against Perth, Herbert has some tough calls to make across the park.
Regular right back Manny Muscat and new signing, central defender Jade North, arrive in Wellington on Friday after international duty with Malta and Australia, respectively, and Herbert said both would be considered despite not being able to train with the team before the match.
- NZPA