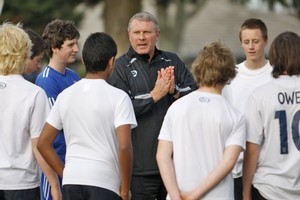 New Zealand Football made a big step towards building on the All Whites success at the World Cup earlier this year by announcing a multi-million dollar five-year partnership with ASB today.
As part of the partnership ASB will be the naming rights sponsor of the ASB International Series - the All Whites games scheduled to take place in Auckland and Wellington in October.
In other changes the New Zealand Football Championship will be renamed the ASB Premiership and the Chatham Cup will be called the ASB Chatham Cup.
The partnership is set to drive the development of soccer in New Zealand with focus on the grassroots level.
"ASB is excited to be involved in a sport played by all ages, abilities and genders," says ASB Chief Executive Charles Pink.

"The upcoming ASB International Series and the launch of the ASB Premiership the following week flag the commencement of this important partnership," continues Mr Pink.
"The ASB team is delighted to be assisting New Zealand Football to create football families for life."
The new partnership will see ASB as the principal sponsor of NZF's grassroots football programmes, helping to cement the game as the most-played sport in New Zealand for children under 12 years old.
Development of talented young players will be encouraged by ASB's Football Festivals, Holiday Programmes, Drop in Centres and After School Programmes.
As part of NZF's youth programme, ASB will work alongside three other partners to support the development and delivery of NZF's Small Whites programme across the country, encouraging 4 to 11-year-old football players and their parents to get active and involved in football.

All elite competitions across New Zealand will also be supported by ASB, including the ASB Premiership (formerly the New Zealand Football Championship), ASB Chatham Cup, ASB National Youth League, ASB National Women's Youth League and ASB Women's Knockout Cup.
New Zealand Football has also been working to establish the new ASB Phoenix Challenge, where the eight ASB Premiership clubs will enter into a competition with a Phoenix reserve team.
"New Zealand Football is delighted to partner with ASB, a national brand with strong roots in our local communities," says NZF Chief Executive Michael Glading.
"Football is moving from strength to strength in this country and this partnership with ASB is a crucial step in our strategy to grow involvement in our sport from the grassroots right through to elite levels."
The 100,000 players and many more thousands of supporters at football games on winter weekends will also benefit from ASB's support of football across New Zealand, with the partnership including sponsorship of all grassroots and elite-level referees.
- NZ Herald Online