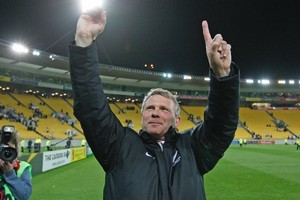 It might not have worked out first time around but the door isn't shut on Ricki Herbert taking up a position at West Ham, where he has forged a good relationship with manager Avram Grant.
The All Whites and Wellington Phoenix boss was approached by Grant about the possibility of becoming assistant manager at the English Premiership outfit but a formal offer was never put to Herbert.
The timing of the approach and a limit on finances available to Grant meant this didn't happen - but Herbert has remained in touch with the Israeli and there's a chance the two could work together in the future whether at West Ham or another club.
Grant was recently appointed Hammers boss to take over from Gianfranco Zola, who was sacked after the club narrowly avoided relegation to the Championship last season.
Herbert's relationship with the former Chelsea and Portsmouth manager helped pave the way for Winston Reid to join West Ham, who opened their new Premier League campaign at Aston Villa overnight.
Grant got in touch with Herbert during the World Cup for his opinion of Reid and negotiations progressed from there.
Herbert fielded myriad approaches to coach overseas before, during and after the World Cup, including the one from West Ham. He was also sounded out about taking over at a couple of Asian clubs as well as an Asian national side and turned down a lucrative offer to be technical director with Cape Townbased Santos, who play in the South African Premiership.
The 49-year-old spurned the Santos offer for family and lifestyle reasons, as well as a desire to continue the progress achieved by the Phoenix and All Whites in the past 18 months.
"I was mindful that after the 1982World Cup, people moved on for whatever reason and the game crashed," he said last month. "I didn't want to see that happen again."
Last month, he signed a new three-year contract with the Phoenix, which would allow him to commit full-time to the All Whites just over 12 months out from the 2014 World Cup in Brazil. His new contract with New Zealand Football through to the end of the next World Cup campaign is in the process of being finalised and should be completed soon.
While Herbert would love to take the All Whites to Brazil, should they qualify for a third World Cup, he also has ambitions to coach in England, where he has a number of good contacts.
As well as Grant, he remains in touch with Ipswich manager Roy Keane, with whom he completed his Uefa Pro Licence. He also spent time at Middlesbrough three years ago and helped arrange a trial for Tony Lochhead with the then-Premier League club.
He could still have options to coach there after the next World Cup campaign, especially if New Zealand qualify for Brazil and do well again, but his stocks have never been higher after guiding the All Whites to three draws in South Africa and this could have been his time.
Working as a training-ground coach, which is often the domain of an assistant manager, would have been ideal. It would have provided Herbert with valuable experience at a Premiership outfit, as well as a foot in the door to English football.
Herbert stood to earn considerably more at Santos than his combined salary with the Phoenix and All Whites but didn't feel right about a move there. His $50,000 contract with NZF easily made him the lowest paid of any of the 32 coaches at the World Cup and, although he's likely to get a pay rise with his new deal, the increase is not expected to be significant.