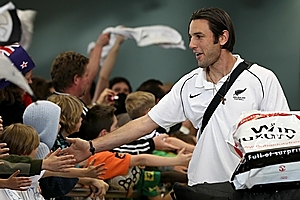 The All Whites' unbeaten run at the World Cup has seen them soar 24 spots up the world soccer rankings to 54th but still short of their best of 47th in 2002.
New Zealand, who finished 22nd at the World Cup in South Africa, were the biggest movers in the new Fifa rankings released today after Spain won the final over the Netherlands on Monday morning.
Spain replaced Brazil at the top of the rankings with the former world No 1 slipping to third, behind the Netherlands, who rose two spots to second.
France, the 1998 world champions, slipped 12 places to 21st while Italy, who drew 1-1 with New Zealand and finished bottom of their World Cup group matches, fell six places to 11th.
Surprise semifinalists Uruguay were another big mover, jumping 10 spots to sixth.
Paraguay, who topped New Zealand's group, moved to 16th from 31st.
New Zealand earned 1-1 draws with Slovakia and Italy and 0-0 in their final group match with Paraguay.
Leading world rankings: Spain 1, Netherlands 2, Brazil 3, Germany 4, Argentina 5, Uruguay 6, England 7, Portugal 8, Egypt 9, Chile 10, Italy 11, Greece 12, USA and Serbia 13 equal, Croatia 15, Paraguay 16, Russia 17, Switzerland 18, Slovenia 19, Australia 20.
Also: New Zealand 54.
- NZPA