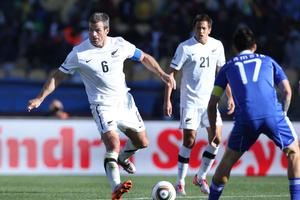 The All Whites look set to be the biggest movers when the latest world rankings are released on Wednesday.
New Zealand went into the World Cup ranked 78th, the third lowest of any of the 32 teams in South Africa, but three draws in their three games should see them climb to about 54.
The Fifa rankings are a complex system of algebraic equations (P = M x I x T x C x 100) and take into account results achieved over a four-year period. They place greater weighting on World Cups and reward teams for results against high-ranked opponents.
While they don't always come up with answers that please everyone, they are the only officially recognised rankings and New Zealand have been predicted by respected website www.football-rankings.info to be the biggest movers of any of the 207 nations who are Fifa members.
Trinidad and Tobago have been estimated to climb 21 places to 74 while Chad could move up 19 places to 124.
The All Whites claimed a healthy number of points for their 1-0 friendly win over Serbia in their lead-up to the World Cup but even more for the 1-1 draws with Slovakia and Italy and 0-0 draw with Paraguay.
The result against Italy was particularly significant given the Azzurri are ranked fifth in the world (failure to progress from their group in South Africa could see them drop outside the top 10).
It should see New Zealand slot in just outside the top 50, around teams like Costa Rica, Finland, Poland, Bosnia-Herzegovina and Northern Ireland.
It is still short of New Zealand's highest ranking of 47, achieved in August 2002 after they beat Australia to qualify for the 2003 Confederations Cup. In September 2007 they were a lowly 156.
Neither ranking was deserved then but this time around they will warrant their place near the world's top 50.
Ricki Herbert's side proved they deserved to be on the world stage after many questioned the relative ease with which they qualified for South Africa.
While they will keep the points accrued from the World Cup for the next four years it might be difficult for them to climb much higher because they don't have any games scheduled - and what they are planning are friendlies, carrying the least importance.
Meaningful games against quality opposition is one of the reasons why New Zealand Football want to move into Asia's final group of 10 for qualifying for the 2014 World Cup in Brazil.
It would also help them achieve the ambitious goal set by NZF chief executive Michael Glading of being among the world's top 30 by 2020.