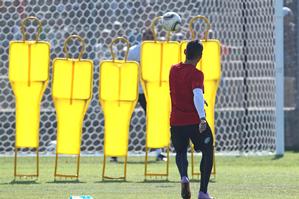 Leo Bertos was a bit miffed. Not only did he go to training without a police escort but he also had to cook his own dinner and wash his own dishes.
This wasn't the life he was used to - certainly not the one he had been enjoying for the past six weeks.
The 28-year-old has returned to reality after living in the World Cup bubble and it's not something he has found altogether easy to adjust to.
"It's been a bit different, weird," he says contemplatively. "We started back training with the club team on Monday and it was completely different to what we have been used to over the last six weeks. We didn't have a police escort [to get to training] for a start.
"The World Cup was definitely something different. You wouldn't even get that treatment in the English Premier League. It was unreal. Everything was laid on for us.
"All we had to do was concentrate on our job on the field. It was pretty cool and a great experience and something I definitely won't forget. I just wished it had lasted longer."
Every All Whites fan would agree. The way the country responded was as unexpected as the results Ricki Herbert's side achieved in South Africa but it was all over as quickly as it came around.
It's now up to the Wellington Phoenix to carry on that momentum.
They begin their fourth season at home against Gold Coast United on Friday August 13 with increased interest but also expectations.
Last season, the Phoenix got to within one game of the grand final on the back of a wonderful run of seven wins and a draw in 11 matches.
They were the form team in the second half of the competition and fell just short of playing for the ultimate prize.
It will be a challenge for them to replicate or better that this time around. Not only have they lost a couple of influential players in Jon McKain (Saudi Arabia) and goalkeeper Liam Reddy (Sydney), but they have also had a disrupted build-up, with five of the 17 squad members and coach Ricki Herbert on duty in South Africa as the rest of the squad trained in Wellington.
The All Whites contingent had five days off after returning from the Republic but the impending start to the A-League season meant they couldn't have any more time off than that.
Bertos and Tony Lochhead didn't play the pre-season friendly against Brisbane yesterday, while Tim Brown was given more time to recover from his shoulder injury.
"Ricki and the coaches are going to monitor the boys who have been away," Bertos says. "Physically we are all great, it's just recharging mentally and making sure we aren't on a downer.
"We need to be right and ready to go because it's not long until the season starts. We have to make sure we are firing because we have a bit of pressure to perform as well as, if not better than last season.
"The pressure is there and that's a good thing as well. It's good to see the game has come a long way so quickly. The goal is to win the league, so we have to make sure we do the best we can. We have to make sure we go into the season with no excuses and we don't hold back. It's important to keep that momentum from last season."
Complicating matters is the uncertainty surrounding not only the futures of some players but also Herbert himself.
The Phoenix and All Whites coach has said he will make an announcement on his future in the coming days as he mulls over overseas offers alongside the fact he still has one year left on his Wellington contract.
He is said to be seriously considering a couple of offers but it's not yet clear how that might impact on his desire to coach the All Whites through to the next World Cup.
There have also been rumours linking goalkeeper Mark Paston (Tottenham) and Bertos (Werder Bremen) to European clubs.
"There are a few rumours going around but nothing [concrete] at the moment," Bertos said.
"It's been a bit quiet, really. I got my agent to follow it up but nothing came of it. I'm pretty sure it's nothing.
"It was disappointing but it's nice to know that, coming from a tournament like the World Cup, there are rumours because it must mean you performed well. To know I have done that is pleasing."