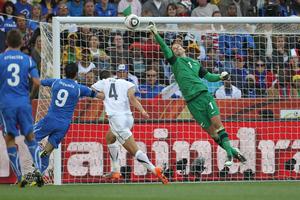 What a ride! On the eve of the All Whites' game against Paraguay, Kiwis were right behind their team.
In supermarkets, mums and dads lined up to buy packets of Milo and crumpets for the middle-of-the-night snack that is compulsory when watching a sports fixture.
Thousands of kids across the country went to bed early and were woken to watch history being made.
Earlier in the day, hundreds of fans in workplaces and schools opted to show their support with a white out and I would have joined them except we've just moved house and I have 35 cardboard boxes marked "clothes", with no idea of what's in them.
But that doesn't mean I haven't loved every minute of this All Whites campaign. The boys are the most wonderful ambassadors for football - and for this country.
And I'm quite sure that groundswell of support created by the All Whites can be capitalised on by New Zealand Football in the years to come.
The success of the Phoenix in the A-League; the fact that we have players signed to overseas clubs with more to come (if Mark Paston and Chris Wood don't come home clutching contracts, I'll be stunned); and, to top it all off, the fact that this campaign has been such a success, will guarantee that we don't have to wait another 28 years to experience the highs and lows of our beautiful boys playing the beautiful game.