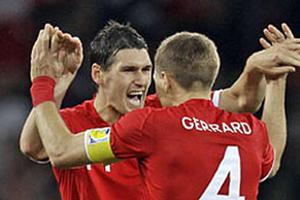 Anyone would think the World Cup is over. The All Whites may have gone but we're only half-way through.
The deadwood has gone (Italy, France) and sadly a couple of the better nations are also flying home (New Zealand, Australia).
Here's your must-read, comprehensive, cliche-riddled guide to what's going to happen.
Sunday:
Uruguay v South Korea: Latin flair meets Asian industry. Diego Forlan will score a stunner in a tight match. 1-0 to Uruguay.
USA v Ghana: The soccerball players will fumble at the 20-yard line allowing the only Africans left in the competition to take the lead. However, wild African defending and a spirited fightback will take it to extra-time where the Yanks will nick it. 2-1 USA.
Monday:
Germany v England: The hottest tie of the second round will see these old friends resume relations. England out on penalties? Not this time. England will finally play the football they're capable of after two woeful performances and one average game. Germany have already produced their best. 2-0 England.
Argentina v Mexico: Don't miss this one. Two sendings off and a missed penalty as the hot-headed south and central Americans go hell for leather. Messi will get his first goal of the World Cup as the Argies prove too strong. 3-1 Argentina.
Tuesday:
Netherlands v Slovakia: Sleep deprived because of too much football? This is the one to miss. Straightforward. 3-0 Netherlands.
Paraguay v Japan: The evil Paraguayans who cruelly dumped New Zealand from the tournament will suffer here as our Japanese friends show solidarity with the Kiwis. Sweet irony as a Paraguayan gets sent off for elbowing. 2-1 Japan.
Wednesday:
Brazil v Chile: Chile have already proven to be a surprise package and will surprise people even more in this one. Two great footballing teams, this will become an instant World Cup classic. But the end result won't be a surprise. 4-2 Brazil.
Spain v Portugal: A spiteful game of kicking, shirt-tugging, diving and histrionics, this will be irritating but compelling watching. 2-2. Spain win on penalties.