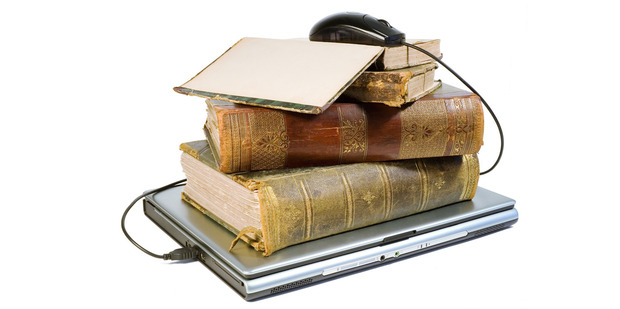 When we think of early New Zealand fiction, we tend to think proudly of that acclaimed trio of earnest early 20th century writers Katherine Mansfield, Robin Hyde and Ngaio Marsh.
But long before any of them learned to hold a pen, the New Zealand novel was born. And what an entertainingly kooky thing it was in the 19th century, full of ferocious cannibals, Maori princesses, rebellious Irish maids, shipwrecks, moa hunts, melodramatic romances ... Many were written by authors who'd never stepped out of England.
Thanks to online book depositories such as the New Zealand Electronic Text Centre and Project Gutenberg, I've been having a riotous time lately trawling through early novels set in New Zealand. Here are three of my favourites:
In Search of the Castaways by Jules Verne, 1868
This is a little known children's story by the famous writer of Around the World in 80 Days. It tells the story of two English children who embark on a journey to the other side of the world with an aristocratic Scottish couple to search for their missing sea captain father.
In the dramatic third volume of the story they shipwreck "on the much-dreaded New Zealand shores" in the thick of the New Zealand Wars, and have to make their way from the Kawhia Harbour to Auckland without being spotted by the local "ferocious cannibals".
But one night they are captured by a party of warriors retreating from battle, whose chief is named Kai-Koumou, "a name of evil boding in the native language, meaning 'He who eats the limbs of his enemy.'"
Back at the pa, they witness a cannibal feast - "The drops of hot blood splashed over these festive monsters, and the whole of this detestable crew grovelled under a rain of blood" - and it becomes apparent that they're next up on the menu. Gasp!
Can they escape and find the children's father? Find out at by reading the book online at Project Gutenberg.
Distant Homes by Isabella Aylmer, 1862
Today it's all about the Scandinavian crime thriller, the paranormal love story, the mummy porn erotica ... Back in Britain in the 1860s pioneer adventure novels were the rage, presumably as a reaction to the mass emigration in that era to the colonies. The first pioneer novel set in New Zealand was by an English woman who'd never set foot in New Zealand, but pretty much copied and pasted stories from the letters of family who had, and threw in a bit of context from guidebooks, to create a wandering narrative (of sorts) of an immigrant family's experiences.
Scholar Joan Stevens, in the 1960s, said it was laughable for its badness, calling it "an artless story, thick with sentiment, comically inaccurate, stuffed with cliches, yet revealing here and there tantalising glimpses of the truth".
How could I resist? Here's an excerpt: '"Let me see the place we are going to George, oh! what is the name?" ... "The Canterbury Settlement." ... "Ah, that will sound almost like home; only think of there being a Canterbury among the savages; I wonder if there's a bishop and a cathedral?"' Read it here.
Anno Domini 2000, by Julius Vogel, 1889
In 1889, former New Zealand premier Julius Vogel wrote a futuristic novel set partially in New Zealand in the year 2000 that makes for fascinating reading for his many eerily accurate predictions of life in the future.
He imagined that we'd be flying around in "air cruisers", be harnessing the power of hydro electricity, have air-conditioning in our homes, and women would hold the highest posts in government. (In the year 2000, in reality, New Zealand had a female prime minister, leader of the opposition, attorney-general, chief justice, governor-general, Telecom CEO and monarch.)
It's a fun read. And the swoony romance plot is a bit of a giggle. At one point the rakish Lord Reginald approaches the young Duchess of New Zealand above a "powerful aerial cruiser" off Waiwera and says: "I will teach you to love me. You cannot remain unresponsive to the intense affection I bear you." Read it here.