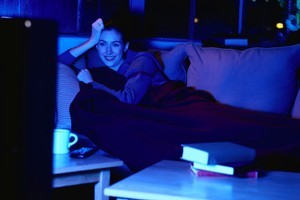 Fans of Kate Atkinson might want to pull their noses out of their novels tomorrow night, to watch the BBC bring Scottish author's Jackson Brodie detective series to the small screen.
The adaptation of three novels from the quirky crime series - Case Histories, When Will There Be Good News and One Good Turn - will screen in a three-part mini-series starting 8.30pm tomorrow on Prime.
Is it just me, or are there more book-to-screen adaptations around than usual this year?
Six of the nine films nominated for the Best Picture Oscar this year were book adaptations, including The Help, Hugo, The Descendants and War Horse. We Need to Talk About Kevin has just been released (Herald reviewer Peter Calder was not impressed) and there are many more big-name adaptations lined up.
Here's my list of the top five adaptations to look out for later this year.
There are loads more, so feel free to add your nominations below.
1. The Hunger Games
Yep, the sun is going down on Twilight - bring on The Hunger Games. Adapted from the addictive young-adult trilogy by Suzanne Collins, the first Hunger Games film opens here on March 22. In a post-apocalyptic world, a teenager is selected to represent her district in a series of televised gladiatorial fights to the death. The trilogy has sold in the millions, so expect queues outside the cinema and some very high expectations from young and old.
2. The Hobbit: An Unexpected Journey
You might have heard of this one. Yes, finally, we have reached the hallowed year in which Sir Peter Jackson will be releasing the first part of his adaptation of the first of J.R.R. Tolkien's Middle Earth stories. But be patient, my little hobbits. It's not out until December 13.
3. The Great Gatsby
I just can't imagine what this is going to look like. Baz Luhrmann doing F. Scott Fitzgerald's The Great Gatsby. In 3D. Filmed in Australia. It's bound to be a spectacle (for better or worse) from the director best known for flamboyant music-dominated films (Romeo + Juliet, Strictly Ballroom, Moulin Rouge). Leonardo DiCaprio is playing Gatsby. It's another long wait - the film is scheduled to be released worldwide on Christmas Day. (Who goes to the movies on Christmas Day?) I'm locking it in for Boxing Day...
4. Cloud Atlas
David Mitchell's story might be a tricky one to keep track of on screen, with its six interrelated stories set in wildly different places and times. But the filmmakers have a heavyweight cast to help explain it all, including Tom Hanks, Hugh Grant, Halle Berry, Jim Broadbent, Hugo Weaving and Susan Sarandon. Look out for it in October.
5. Life of Pi
When it comes to the logistics of filming, this intimate tale being directed by Ang Lee is about as far removed from Cloud Atlas as it's possible to get. Much of it is set on a small lifeboat, which sets out across the Pacific carrying the survivors of a shipwreck: a young boy, a tiger, a hyena, a zebra and an orang-utan. The book won its author Yann Martel the Booker Prize. Yet another December release, no doubt timed - like The Hobbit and The Great Gatsby - to be fresh in the Academy's mind when it decides next year's Oscars,
* What book to screen adaptation are you looking forward to? Do you have any favourites?