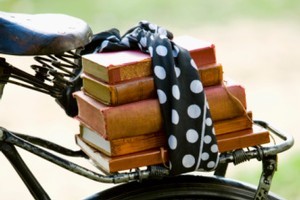 The publishing year has cranked up in earnest and the bookshops are beginning to fill with rows of tempting new reads, many of them debuts. Here are our picks for February.
1. The Underside of Joy by Seré Prince Halverson
Debut novel The Underside of Joy has so impressed the book industry that it's being translated into 12 languages and launched in 15 countries. American writer Seré Prince Halverson has crafted an intimate and emotional tale about Ella, a woman whose husband dies tragically, leaving her pummelled by grief and facing the possibility of losing her two stepchildren to their birth mother, Paige. But Ella discovers there's far more to Paige's story than of a heartless woman who abandoned her children. This would make a great book club read - it raises a lot of interesting issues. Read an excerpt on the author's website.
2. The Snow Child by Eowyn Ivey
Another debut that's getting a lot of attention is The Snow Child by Alaskan writer Eowyn Ivey. Ivey has created a magical and atmospheric story from the bones of an old Russian fairytale about a childless couple who go out into the yard to make a snow girl who then comes alive. In Ivey's version, the couple are Jack and Mabel and the scene is an isolated part of Alaska in the 1920s. The pair ran away to Alaska to escape from their grief at losing a baby, only to find the isolation and unforgiving environment driving them deeper into despair. And then they build a snow child... (Mindless trivia: the author's parents named her after a character in The Lord of the Rings.) There's an excerpt here.
3. The Sea on Our Skin by Madeleine Tobert
The title of this book and its beguiling cover art - turquoise sea, blue sky, pink frangipanis, palm fronds - suggest that the novel The Sea on Our Skin is a cheerful tale about an idyllic South Pacific island. But perhaps we should read more into the choppiness of those turquoise waters, because this debut by Scottish-born New Zealand writer Madeleine Tobert is darker than the packaging would suggest. It's set in an unnamed Pacific Island and begins with the marriage of the restless Ioane Matate and the younger and sheltered Amalia Hoko. Their marriage begins with a series of bad omens and continues accordingly, as Amalia discovers her new husband's tendency to violence and cruelty. We'll be running a Q&A with Tobert in a couple of weeks. If you'd like to ask her a question, post it below.
4. Currawalli Street by Christopher Morgan
The extraordinary lives of ordinary people are the subject of this second novel from Australian writer Christopher Morgan. Currawalli Street tells the story of the people who live on a single Melbourne street. When the book begins in 1914, Currawalli Street is a half-finished subdivision where new neighbours are tentatively getting to know one another as the Great War lurks in the background. There's a sea captain, a portrait painter, a psychic, a renowned mapmaker, a woman with an affinity for chickens, a minister and his sister/housekeeper who leads a secret other life. The second half of the book rejoins the descendants of those same families in 1972, when young soldier Jim is fresh back from the Vietnam War. A simple, elegant story of connection, desire and the secrets hiding behind our front doors.
5. This Beautiful Life by Helen Schulman
Liz Bergamot seems to have it all. She and her family have moved from a small town to New York's Upper West Side so her handsome, high-flying husband Richard can take up the opportunity of his career. Liz has given up her career as an art historian to be a stay-at-home mother to 15-year-old Jake and six-year-old adopted daughter Coco, socialising with Manhattan's privileged and affluent private school set. But beneath the surface Liz is barely holding it together when, with a click of the mouse, their apparently beautiful life turns sour: Jake receives a sexually explicit video message from a younger girl and forwards it to a friend for a second opinion. Within minutes the video has gone viral. The girl is humiliated, Jake is disciplined by his school and his academic future is in jeopardy, Richard becomes a PR liability for his high-profile project and the family are confined to their apartment. Chock-full of talking points about modern parenting, the materialism and excess of the early 2000s and the sexual precocity of young girls, This Beautiful Life would be another great book club read. Watch out for our Q & A with Helen Schulman next week.
6. Little Shadows by Marina Endicott
This sweeping novel from acclaimed Canadian author Marina Endicott tells the story of three teenage sisters who, following the untimely death of their father, are encouraged by their mother to support themselves on the vaudeville circuit through Canada and the western United States in the early 20th century. Little Shadows follows their evolution into performing artists, and the eccentric characters and shady situations they encounter along the way. It's a story about the meaning of art, the thrill of performance, the bond between sisters and the challenges facing women supporting themselves long before the feminist movement. It is also a vivid evocation of the fascinating and colourful world of vaudeville.