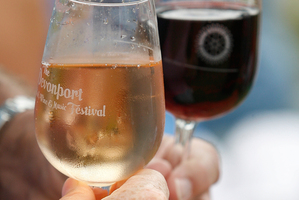 Two North Shore events which for years have drawn thousands of visitors and raised money for charity are despairing at the loss of funding lifelines from the Super City's tourism and events promoters.
Devonport Food & Wine Festival and NZ Sculpture OnShore organisers and volunteers were last night upset at having funding applications rejected.
"We need council funding to have the confidence to go ahead and book the big headline acts that allow us to presell the tickets," said food & wine festival organiser Gavin Busch.
"It's left a revenue hole and we'll have to cut costs which will impact on the quality of the event.
"It's not a two-bit operation. It's been going 23 years and 8500 attended in February and it's ranked up there with the festivals of Marlborough and Martinborough."
Mr Busch, of the Takapuna Rotary Club, which founded the event, spoke to the Herald shortly before the Devonport-Takapuna Local Board was briefed by Auckland Tourism, Events and Economic Development (Ateed).
He said the Devonport waterfront park event's funding prospects had been undermined by Auckland Council-run free events in downtown Auckland and the focus on promoting the new Wynyard Quarter.
"It's bizarre because Devonport is Auckland waterfront, too.
"The sad thing is that when you look at the events calendar in Auckland there are events that are disappearing, for example, the Mission Bay Jazz Festival."
Board member and former North Shore City deputy mayor Dianne Hale said she was disappointed to hear that the festival had lost a chunk of its council funding along with the sculpture show held on the sea cliff at Fort Takapuna.
"These events bring a lot of people into the area and have become important to the region," said Mrs Hale.
"I'm concerned that a lot of events that were funded by the former North Shore City Council are now just getting told to go away."
Friends of Women's Refuges chairwoman Dorothy McHattie said the last of the two-yearly sculpture displays drew 18,000 visitors and raised $70,000 for refuges.
"Ateed says you have to attract numbers of people from outside Auckland and overseas so we didnot qualify," she said.
"But when the event is on, business goes up by 50 per cent in North Shore and more than half our buyers of art are from outside North Shore.
"If Ateed got its act together, it would be promoting the show and organising cheap fares to it."
Mrs McHattie said the display would go ahead this year - thanks to $35,000 left in the kitty by the former North Shore City Council. But this was the last of the legacy.
Ateed manager of major events Jennah Wootten said the events were two of 86 applications competing for a total of $19 million.
Ateed had a budget of $2.25 million to allocate to major events.
The two applications were declined on the basis that other sponsorship opportunities gave a greater return on investment in line with the criteria of economic growth, liveability, international exposure and visitor nights.
FUNDING REJECTS
* Devonport Food & Wine Festival: 8500 attended in February; since 1990 more than $2 million profits to Rotary.
* NZ Sculpture OnShore: 18,000 attended in 2010; $70,000 raised for women's refuge.
Ateed budget: $2.25 million for major events; 86 applications totalling $19 million.