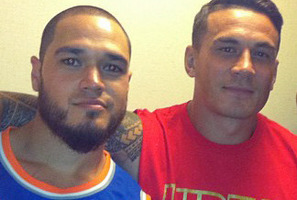 Going into last night's homecoming league game at Eden Park, Sonny Bill Williams was nervous.
He admitted as much to fans.
But one of the best ways to deal with nerves is to embed yourself in routine. And when SBW returns home there are two things he usually does: visit his mum and get a haircut.
So, on the eve of last night's highly anticipated game, the sport superstar got his hair styled by an old friend at the Pullman Hotel.
Allan Tonkin, from New Flava Barbers in Papatoetoe, styled three of the Roosters players' hair at the hotel where the team have been staying since Thursday.
Tonkin, who is the brother-in-law of former All Black Pita Alatini, is always in demand among visiting sportsmen and musicians. He said Williams received his usual "comb-over with a low one-fade and line".
He said the style involved shaving around the base of the head in a faded fashion while leaving enough on top to comb over to the left.
The style - which they had created together - has become the "Sonny Bill Willams Cut".
"Heaps of people and heaps of kids get the SBW styles. Yeah, big time, he set the comb-over trend," Tonkin said. A lot of Kiwis playing for international teams got their hair cut at New Flava Barbers when they returned home, Tonkin said. "When you are on TV you've got to be fussy. Image is everything these days."
Tonkin charges clients $20 for the Sonny Bill Willams Cut. But, he said, Williams paid a lot more in free clothes and game tickets.
Earlier diehard Warriors fan Lauren Pain had spotted the star in Auckland City. Pain, 23, said Williams and two friends walked passed her in Queen St. She was already disappointed at missing seeing him the previous night, when he and his teammates dined at the Angus Steak House in Fort Lane. "My workmates were there for a farewell party and I missed it," Pain said.
She wasn't going to miss a second chance, though. "I was kicking myself so I thought I would be a bit cheeky and get a photo with him."
Williams told her he was nervous about last night's game but feeling confident, she said.
Meanwhile, members of the Ponsonby mosque expressed disappointed he was unable to make afternoon prayers on Friday. Mosque secretary Firoz Patel said about 30 people turned up hoping to meet Williams. "But he had to stay with the team." SBW's team won 16-14.