Keep an eye out for these futuristic looks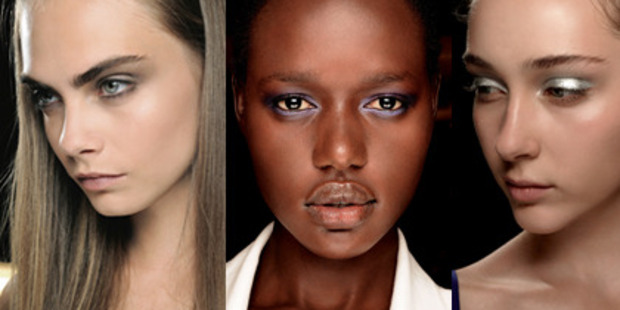 At a quick glance these images from M.A.C's beauty trend forecast may seem to have little in common, but they do. Whether each runway look initially stands out for its statement colour or arresting artistry, the underlying unifying feature is beautiful skin.
Skin made flawless remains beauty's biggest obsession and for the months ahead it is subtly flushed and contoured - at times with a hint of a creamy tan.
"Skin is the power player of the season," says Nicole Thompson who, along with her fellow M.A.C senior artist for Oceania, New Zealander Amber D, presented the forecast in Sydney this month before heading to New York to begin work on the latest round of international Fashion Week shows. (For the first time, Amber D will take a lead makeup artist role in New York.)
The double act said nods to the 60s and 90s were also evident in trends which crystallised at the spring-summer 2013 shows held late last year and set to influence on-counter makeup options through winter and beyond.
It's easy to guess which decade a look called Sci-chedelic pays homage to, as seen in graphic liner strokes and metallic finishes, including in pastel shades.
Liner is less feline, more blunt and undone, picking up on the fashion vibe set by Marc Jacobs choosing Factory Girl Edie Sedgwick as a fashion inspiration last September. Other Andy Warhol-associated touches are "pop" colours, still going strong on lips, and freshly minted in unexpected eye shadow colours, most often a single shade rather than a blend. "One beautiful sheen," was how Amber D described the likes of the copper eye seen at Chloe and the sweep of silver sweep at Issey Miyake.
Navy is a trending shade to experiment with, says Thompson. It suits most people and along with other blue tones and metallics expect it to show up strongly in upcoming makeup collections by M.A.C and other beauty brands. At the Jean-Pierre Braganza show, a bright blue lightning bolt eye came right out of David Bowie's closet and the space age theme was worked into a "flying saucer eye" at Antonio Marras. Outside showy effects, the sci-fi eye avoids looking retro, rather it can be strongly futuristic, especially when twinned with lighter modern makeup formulas. Instead of applying glittery loose pigment with a brush a creamy metallic shadow can be swiped on with a finger.
If you're wondering what the 90s offered trend-wise other than a tried reworking of grunge, then think boy brows which are still going strong and the reappearance of sun-kissed skin. Icky eye shades also owe something to the era, picking up on the khaki, purplish, sepia or taupe shades in the shadowed areas of the face. To make this look work, Amber D says, "you still need to bring the beauty out". Try this by blending a skin-toned shadow into the area fringed by the lower lash line for a subtle reworking of the smoky eye. Keep lips a pretty shade, with a hint of pink or peach rather than anything too brown or beige.
Back to that all-important skin. Amber D advises that combining skincare with makeup is the key to achieving a perfectly now look. Start with well-hydrated skin, as little foundation as needed and then try a touch of moisturiser (or M.A.C's Strobe cream, soon to come in a golden elixir) for a balmy finish.
- VIVA