Eighty-one-year-old farmer happy to be alive after being crushed by tractor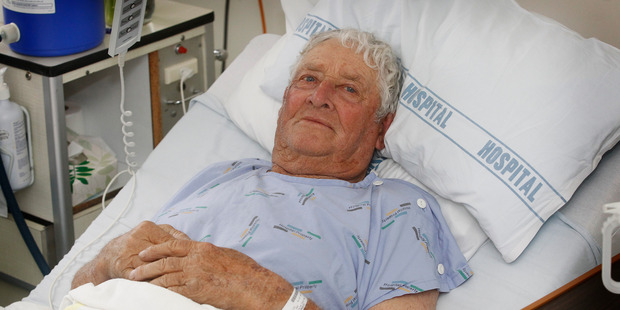 'I've got bruises like tyre marks up my leg," says Guy Speedy, vibrant and laughing just two days after being run over by his own tractor.
Speaking from his hospital bed in Waikato Hospital yesterday, the 81-year-old was in good spirits, recovering from surgery to repair his shattered pelvis and bruised body from the farm accident on Monday morning.
He badly damaged his right leg and pelvis, both of which bore the brunt of the dual-wheeled tractor which rolled over him at his farm at Ngatea, near Thames.
Mr Speedy - also known as "Speed" - shook his head in frustration as he recalled how he left the engine on and put the tractor into neutral before jumping out "in a rush" to try to herd some wayward cattle.
He knocked the gear stick on his way out of the cab before he slipped and fell off the step on to the ground in front of the wheels.
"My gumboots were stuck," he said. "I couldn't get them out from under the wheel.
"The tractor went up this side of me because I was turned trying to get out," he said, attempting to demonstrate in his bed.
Mr Speedy came close to tears as he spoke of his attempts to get his mobile phone out of his pocket to call his son, describing it as the hardest part when he was slipping in the mud and realised he couldn't walk.
He described himself as "pissed off" at his "silly" mistake, leaving the tractor engine on and the field gate open.
But even as he waited for his son to arrive, his thoughts were not on himself.
"I was thinking, 'I've got a load of stock about to run out on to the state highway', and I was on all fours trying to wave a stick at them to stop."
Mr Speedy was flown to Waikato Hospital by the Westpac Rescue Helicopter.
He now faces six weeks of rest before rehabilitation and physiotherapy to help him walk again.
But the grandfather of 10, who has one great-grandchild and another on the way, isn't dwelling on his recovery. He's happy to have survived and is planning to make it to his annual fishing trip at the end of November with his local Lions Club.
But he may be taking it easy from now on, with his wife Bev - who he's been married to for 58 years - buying him an iPad to keep him occupied in hospital.
"He's been thinking about [retiring] recently so I think he will take it quite well," said Mrs Speedy about her husband's likely easing of farming duties. A late retirement for a man who will celebrate his 82nd birthday in less than three weeks.
- APNZ