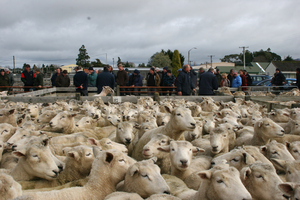 Allied Farmers, in talks with the Inland Revenue Department to settle a $4.2 million tax bill and avoid liquidation, posted a narrower annual loss.
The Hawera-based company made a loss of $4.4 million, or 0.02c per share, in the year to June 30, smaller than the loss of $13.9 million, or 0.85c, a year earlier.
Accumulated losses of more than $156 million have left the firm with negative equity of $7.3 million, more than twice the $2.7 million deficit at the end of the 2012 financial year. The shares last traded at 1.7c, valuing the company at $1.5 million.
"As in the last year's accounts, the group accounts still reflect negative equity as the consolidated result does not attribute the full market value of the investment in the NZ Farmers Livestock subsidiary and the sale yard properties held," said chairman Gary Bluett.
"There is still considerable work to be undertaken but meaningful steps have been made by the company and the positive impact of those steps is now starting to show through to the company's results."
The company is trying to rebuild after the acquisition of financial assets from Hanover and United Finance for $394 million in 2009. It has ring-fenced what's left of the assets in its Allied Farmers Investments unit, which had assets of $753,000 and liabilities of $1.21 million at June 30.
Allied reduced its secured debt to $5.1 million as at June 30 from $17 million a year earlier.