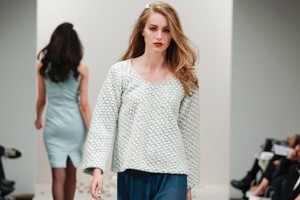 Others may be looking to the 1960s for inspiration, but Auckland-based designer Celine Chapman went to the 90s with her A/W 12 collection, titled, rather fittingly, Addicted to Love.
This morning's show was the NZFW debut for the designer and her Celine Rita label, with a cute take on the darker side of 90s culture - think of witch film The Craft and the sexy outfits of true supermodels.
Chapman's palette was playful, with black and beige lace, bold floral prints, a blush pink 'ballet' print, fuzzy bomber jackets and crushed red velvet in the sexier supermodel section of the show (I can't decide whether that crushed velvet is perfectly 90s ironic or if it should have stayed in the 90s).
Other stand outs from the show included the floor-length long skirts with splits up the leg, bustier detailing on dresses, and, a 90s favourite that could be one of the key trends of this fashion week, turtleneck sweaters.
Oh yes, and the 90s soundtrack, including the track Polyester Girl.
OUR ONE-WORD REVIEW: Nineties.