Each week Rachel Grunwell tries a new sport to bring you the lowdown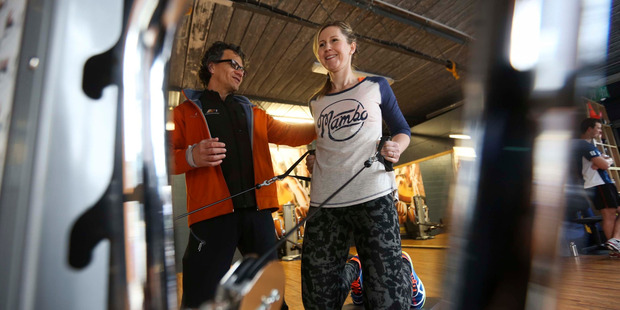 Gravity Circuit
What is it? A class that combines pump (weights) and circuit training.
What's needed? Gym gear, water, towel.
The experience: To get to this class at The Workshop gym in Birkenhead, on Auckland's North Shore, you have to walk behind The Codfather fish and chip shop. The smell makes me think of crispy, battered fish and golden chips dunked in dollops of tomato sauce. Few things are more calorific, but I like chips.
I ask John Pemberton, the owner of the gym, if his neighbour ever tempts him and he confesses that some Fridays he weakens. He believes some fries are fine, but it's best to have the fish grilled, not fried.
Back to the fitness challenge. It's a tidy, intimate, down-to-earth kind of gym, not too flashy or intimidating, and there are fewer than 12 of us in the class. One of the first things I do is try to balance on a Bosu ball. It's like a Swiss ball cut in half, and you stand on the flat surface and try to balance without flipping off it like a bozo.
It's good for balance training and core strengthening, especially when you hold a heavy medicine ball at the same time. My legs shake like jelly on that device.
Another piece of equipment the class uses is the Total Gym Incline Body Weight Trainer. You might remember those TV adverts from the 80s starring toned, tanned American model and actress Christie Brinkley. She'd slide her body up and down it while insisting you really should buy one so you too could look like an American Barbie doll. But John says the machines are actually an incredible tool for functional and strength training. It sure puts me through a challenging workout. And all you have to do is adjust the incline to make the workout harder or easier. I do some pull-ups while on my tummy, although this doesn't make them easier.
This day's class also includes a series of repeat exercises, such as crossover lunges, burpees, speed jumps and squats on the Bosu ball while lifting 5kg weights. A classmate says the Bosu ball looks like a "nice" piece of equipment, "but really it's a device of torture".
Well put.
During the class we work out in pairs. There's music and we take turns at the different activities. It's a motivating and friendly atmosphere.
How much? Rates start at $75 monthly, with no long-term contracts. All programmes include a fitness assessment and training programme.
Worth it? A handy gym for Birkenhead locals.
Try it: The Workshop, 84b Hinemoa St, Birkenhead, ph (09) 480 1055, workshopgroup.co.nz
Rating: 8.5/10