Each week intrepid reporter Rachel Grunwell will try out a new form of exercise to bring you the lowdown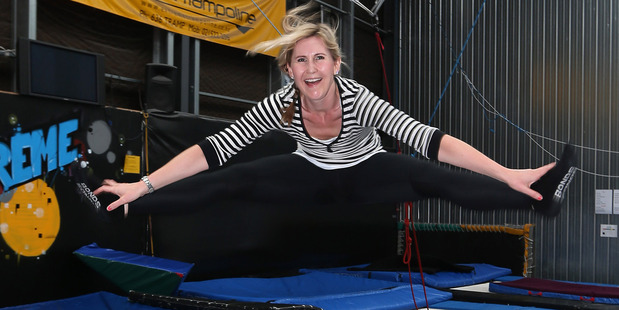 What is it? Exercising including incorporating moves on a trampoline, done under the instruction of a coach.
What's needed? Clothes that allow you to move freely, no shoes, hair tied back.
The experience: I was totally up for this challenge, excuse the pun. I mean, who wouldn't want to jump up and down and feel like a kid again? Plus, you get to cheat gravity for a bit.
I'm at Extreme Trampoline in Onehunga where there are seven Olympic-sized trampolines in a giant warehouse and you can bounce as high as 9m off the ground (that's the height of the ceiling) if you wish. There are cushioned mats in-between each trampoline and on the floor for safety.
The company offers a range of programmes like kids classes, trampolining training and they do birthday parties. They cater too for "big kids" - you can come along and practice tricks and moves for stunt work and figure out things like aerial tricks for wake-boarding, snow-boarding or free-style skiing.
What I get a taste of though is a jump-fit class, a bootcamp style workout that incorporates some time on the trampolines.
Trampoline coach Claire Coetzee, a national champion in trampoline and synchronised in 2010, coaches on the day I'm here. She personally trains over 14 hours weekly, and is among a squad of half a dozen Kiwis who hope to be selected to represent New Zealand at the 2016 Olympics. They train for what is essentially a 20-second performance. Claire says it might not sound like long but you can fit a lot in over that time-frame, like triple summersaults, spins and multiple flips.
However, no real gym ability is required for the jump-fit class, Claire promises.
She starts the session with some running about on the floor and warm ups. Then I follow her up some cushioned stairs and onto my own giant trampoline for some (safe and closely guided) exercising in the air.
I squeal and squawk a bit at first as the sensation catches me by surprise. But once I'm more steady on my legs and in the air I manage to try out a few things like a pike (legs forward and touching my toes while in the air), a straddle (straddling my legs out high up to each side), to trying out some spinning around and landing on either my tummy or bum to trying out drops onto the mat on my back. The spinning around doing repeat drops onto my tummy is harder than it sounds. My mind gets there quick, but my body takes a bit longer to get there! It's as much of an exercise on my brain as it is on those unused muscles!
But the thing that takes me back to my childhood the most, and is the biggest thrill, is doing a forwards flip and landing onto my feet on a giant sized marshmallowy mat. It takes a few goes (I'm not as nimble or fearless as I was as a kid... and I first started off with safe rolly polly moves before I did this), but it was super cool to conquer that. Good fun.
Owner of the business, Angie Dougal, a national trampoline coach, says the jump-fit classes are great for people who are keen to try out something different in a workout, that's more focused on having a good time. She says people get a kick out of trying new tricks and stunts too.
It's also very good exercise. NASA research reveals that 10 minutes bouncing on a trampoline is a better cardiovascular workout than 30 minutes of running. And I'd agree it snatches your breathe away without you realising, and as you concentrate on the moves.
I enjoy scaring myself, squealing with delight as I flail about in the air, with bad upright hair and trying out moves that I did as a kid.
Speaking of kids, mine were not impressed that I went there without them!
How much? The jump-fit class is $15 for casual sessions or $125 for a 10-visit card.
Worth it? This is low-impact exercise, improves co-ordination and agility and gets the heart-rate up while you laugh.
Try it: Check out Extreme Trampoline, 85 Onehunga Mall Rd or see www.extremetrampoline.co.nz
Rating: 8.5/10