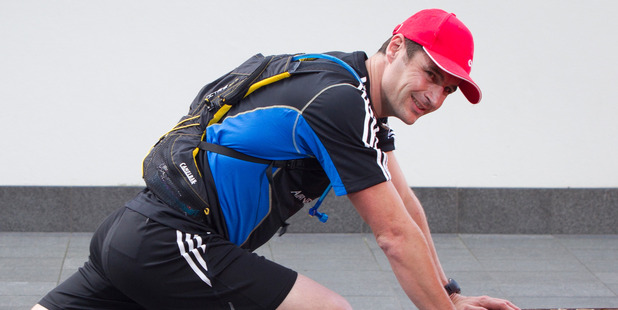 Mike Allsop had climbed some of the world's top mountains and even conquered Mt Everest without a guide, but he wasn't a runner.
That was until two years ago when he decided to set himself the goal of running seven marathons in seven days on seven continents.
It's a challenge very few have achieved, and in fact no one in New Zealand, Australia or America has ever achieved.
Allsop, who flies 737 aircraft for Air New Zealand, hopes to be the first Kiwi to do so next month when he runs a marathon in the Falkland Islands, Chile (Santiago), the US (Los Angeles), UK (London) Morocco (Casablanca) and Hong Kong before completing the feat in Auckland a week later.
"A couple of years ago I climbed Mt Everest ... and I wanted a challenge as big as that without the risk. I've got three little kids that need a dad more than I need to go and climb Everest again,'' he said.
After reading British adventurer Ranulph Fiennes' autobiography, in which he wrote of completing the feat, Allsop decided to set the goal of seven marathons in seven days on seven continents.
Although technically Falkland Islands is part of South America, Fiennes believed it was biologically similar to Antarctica and he classed it as Antarctica when he first did it, Allsop said.
So the serious training began.
"I wasn't a runner before this. I went for a 6km run a couple of years ago and everything hurt.''
Just before he was due to give the challenge a go in July last year, the 43-year-old was diagnosed with a stress fracture in his spine while trekking in Nepal.
"So 10 days before I'm due to go in July, it all fell apart so I've retrained, recuperated, recovered and now ready to go this time.''
In the past three months his training has increased, including running the equivalent of a marathon and then half a marathon every weekend this month.
The most he has ever run was two marathons back-to-back "so the rest of it's going to be on guts and determination''.
Ultra marathon runner Lisa Tamati has been mentoring Allsop, and she believes he can do it.
"He's had a couple of set backs with injuries which as sort of hampered him in his training, but now he's back on track and I just have no doubt whatsoever that he's going to do it.
"Doing this sort of thing requires mostly an attitude of `I'm going to do it no matter what', and Mike's definitely got that,'' she said.
Anyone who could climb Mt Everest could run seven marathons in seven days, she said.
"He's trained really well the last few months and he's really on track for it and I'm hoping to be there for his last marathon when he comes in and just to cheer him in through the last few kilometres.''
Allsop initially wanted to raise $10,000 for children's charity KidsCan, but when US health science company Usana said it would donate $10,000 when he crossed the finish line, he raised the target to $50,000.
He said that "of course'' he could complete the challenge.
"I've just got total 100 per cent belief in myself and there's absolutely no doubt.''
His wife Wendy had supported him throughout.
"She married me knowing I was [a climber] and knowing I was doing this sort of stuff and now it's about finding a balance, so it's a very cool balance because it doesn't take me away for three months, and the chances of me getting myself killed are fairly remote.''
Allsop was hoping that a "whole heap of people'' will run the final few kilometres of the final race with him in Auckland.
And it doesn't stop there, Allsop and Tamati are then aiming to break a world record and complete the world's highest marathon in Nepal in October.
Mike Allsop's greatest climbs
* Mt Everest in Nepal.
* Mt Kilimanjaro in Tanzania, Africa.
* Alpamayo in the Peruvian Andes.
* Every year he runs tours to Everest base camp for Air New Zealand staff.
- APNZ