Each week intrepid reporter Rachel Grunwell will try out a new form of exercise to bring you the lowdown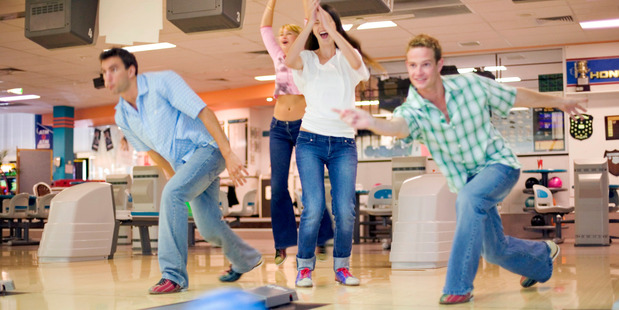 What is it? A new, next-generation bowling lounge with 12 tenpin bowling lanes, split into three areas, plus a miniature-style game on a mezzanine floor. There's music on big screens and, unlike traditional lanes, it's a swanky setup with leather seats where you can sit, order food, drink alcohol and bowl at the same time.
What's needed? Shoes included in bowling prices.
The experience: "Bowling is the perfect equaliser," says Metrolanes manager Chris Haynes. "When we have a corporate group come in, full of say, panelbeaters, then it's the office lady that usually wins because it's not about strength, it's about technique."
Chris is ranked No2 New Zealand in the sport so Metrolanes is a great place to learn bowling because you can pick Chris' brain about technique - he doesn't mind. If he's on a day off, then ask assistant manager Pete Richardson for some pointers. He's a two-time national champion.
Among the tips Chris gives me is to put my thumb and third and fourth fingers in a ball that's comfortable to hold - balls are different colours and weights.
I should position my thumb towards the middle of the lane and roll the ball over the middle arrow on the lane. I then adjust my throw, slightly left or right, depending on where I want to hit any remaining pins.
Chris tells me he's been keen on the sport since he was a teen, a time when players had to manually set up the pins for each turn. The 35-year-old remembers getting paid, as a kid, enough to buy a chocolate bar to set up the pins when his parents played.
Back then, his sister won a bowling trophy and this spurred his hunger to be a winner, too.
He loves that there's no referee and "you either knock down the pins or you don't", and says it's an individual challenge to beat your own personal best.
So I try out Metrolanes, with my husband, Damien, and friends Mike and Noreen, and we enjoy relaxing and having a drink, listening to music and commenting on each others' efforts.
We all roughly get 20 shots a game.
After a bit, Noreen and I wonder why the guys' fast throws, using heavy balls, seem to be blitzing our efforts and so we decide to follow suit. Noreen picks up the heaviest ball she can and laughs when she sees "smart ball" written on it. This ball gets a strike and she says: "Yep, that's a smart ball all right."
I follow her lead and barely lift a heavy ball to the lane, looking like a lopsided loon. But the ball doesn't do too bad. I keep up this tactic until my bowling appears to go backwards. Then I revert back to using the small, light, pink ball, which is easier to throw, and I start to get better results.
But in the end the guys beat the girls, with Damien topping the scoreboard.
Our group then tries out the miniature bowling area where you throw red balls (that fit in the palm of your hand) down shorter lanes. Here, you need a different technique again but it's essentially the same game. I love this shrunk-in-the-wash game, it's novel. But the others reckon you can't beat the big bowling lanes here.
And Chris was right about the final results not diminishing anyone's fun. It's all about an individual's pursuit of the perfect shot, which remains elusive to me.
How much? Regular bowling before 5pm: one game $13, two games $21. After 5pm, one game $15, two games $23. Mezzanine bowling before 5pm: one game $8, two games $14. After 5pm, one game $10, two games $17. Family membership and corporate rates available.
Worth it? Fun entertainment, gets you moving.
Try it: Metrolanes, 291-297 Queen St, Auckland, Ph 0800 10 PINS, facebook.com/metrolanes
Rating: 9/10