Ease yourself into cycling with these scenic, mostly off-road trails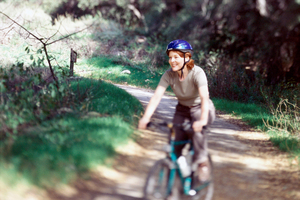 1. Sanders Reserve - Sanders Rd, Paremoremo
Opened in 2011, this treasure has around 20km of trails with excellent views across the Upper Waitemata Harbour. Handy facilities here mean you can relax under cover while others ride, even take a shower after your exertions. The visitor centre is modern and architecturally designed and the kids' bike loop has enough twists and turns to keep them interested while you enjoy the stunning scenery. There are plenty of tracks more suitable for confident mountain bike riders - unsealed and bumpy.
2. Onepoto Domain - Tarahanga St, Northcote
This is a super place for the under-fives to get their ride on, and learn about road rules in the safety of an off-road trail. The trail includes arrows, a roundabout and even a give way sign. The trail also has simple obstacles, like humps in the road, and a boardwalk to experience riding different terrain. Try the very twisty detour track for a challenge. Two playgrounds and boat racing on the pond nearby offer plenty to do when the kids are sick of pedalling.
3. Farm Cove Rotary Cycle and Walkway - Kentigern Close, Pakuranga
A lovely little cycling spot that runs along the Tamaki Estuary and Whakaaranga Creek, for about 8-9km, to Pigeon Mountain; you can even carry on to Bucklands Beach. Many entrance points, starting on Kentigern Close or other suburban streets, a well-made waterfront track, and the houses on the water's edge to admire. Check out volcanic remnants, a wharf and sweet little details. Coffee spots are few and far between, so refuel when you can.