David Hill joins the trail of people who have gazed at or shrunk from a prolific Norwegian sculptor's work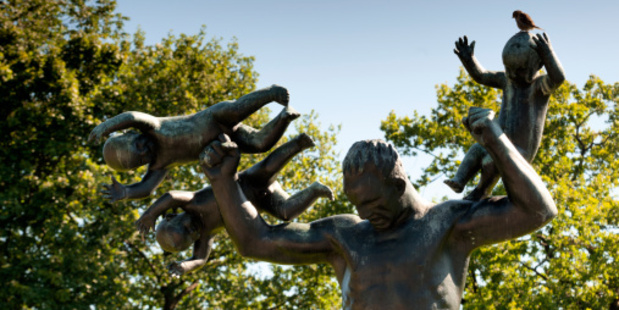 They're possibly the most artistically embarrassing public statues in the world. They're also among the most popular.
Vigeland Park in Oslo, just a couple of kilometres from Norway's Royal Palace, draws thousands of visitors each year. Mostly they come to stare at Gustav Vigeland's astonishing figures, the whole range of human life presented in stone and metal.
There are nearly 200 sculptures, comprising 600 granite or bronze figures, in the park's 40ha. All were modelled by the Norwegian artist, whose museum, with over 1600 more statues (and his ashes) is just five minutes' walk away. Vigeland also designed the park's layout and setting.
He was versatile. And obsessive and abrasive. It took years of often-vindictive debate before Oslo Municipal Council, in 1922, approved plans for a sculpture park which would express the struggles and aspirations of humanity from birth to death (plus a bit on either side). The result is astonishing in concept, amazing (and sometimes appalling) in execution.
Walk through the big iron gates, and you're on a broad avenue leading to a bridge on whose parapets over-lifesize and often over-blown bronze figures are mounted. Some are tranquil: an old man leads a child by the hand; a girl spreads out her long hair; a man and woman dance gravely side by side. Some are violent: one man seems to be flinging a woman over his back; another tosses and kicks children in all directions. They're all massive, thick-waisted, nude but emphatically unsexy. Their faces are expressionless or contorted.
The children, here and in the playground below, are more conventional and appealing. They squat, roll on their backs, look up enquiringly. The park's most famous single figure is a little bronze boy on the bridge, stamping his foot in rage. His hand and ... and another portion of his anatomy are shiny from people touching them.
Across the bridge rises a big fountain, in the middle of which a ring of giants supports a huge bronze bowl. At the corners of the fountain pool, 2m-high Trees of Life in bronze hold other figures that posture through the stages of life. So, in one corner, the tree is filled with infants. Then come adolescents, a young man and woman, a remarkable rendering of a couple plummeting head-first through the branches, a furious man apparently hurling children to the ground, and a skeleton.
A frieze below repeats the motif, ending with a scary scene of Death forcing a couple apart, then a heap of mouldering bones out of which spirits of the newborn rise. Finally, you climb processional steps to the Monolith Plateau.
Like everything else in the park, it's heroic in scale - 120mx60m of stone. From its centre soars the monolith, a 14m-high slab of Norwegian granite weighing 180 tonnes. The 121 writhing, creeping, struggling figures on its surface took three carvers 15 years to complete.
The result is repulsive and fascinating. To many visitors, its agonised stack of bodies evokes the horrors of concentration camps.
Around the monolith are more tableaux, with figures unflinching in their ugliness and cruelty.
Paradoxically, some of the park's most attractive works are seen as you leave. They're the tall bronze gates behind the Monolith Plateau, showing harmonious groups of figures from childhood to maturity.
Whether you see Vigeland Park in the long, bright Northern summer light, or when its statues are deep in snow, there's no denying its drama. It may make you shiver with delight or shudder with distaste, but it certainly lingers.


Oslo Checklist
GETTING THERE: Cathay Pacific flies from Auckland to Oslo, via Hong Kong and London or Amsterdam.
DETAILS: Vigeland Park, Frognerparken, is open 24 hours, every day. Entry is free. Vigeland Museum is open on Sundays only, noon-5pm. Admission NZ$8.