Wandering is a great way to orient yourself through the old medieval city in Zurich, where many buildings date back more than 1500 years.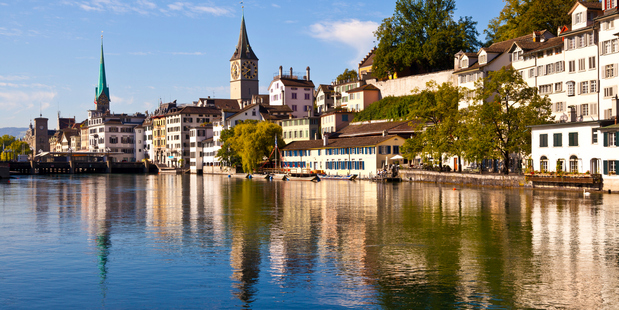 There are 1200 fresh water fountains dotted around Switzerland's most populated city, fed from the nearby lake in which people also play and swim almost all year round.
Locals joke that despite Switzerland having the reputation of being expensive, the water here is free, and there are many attractions in Zurich which won't break the budget, even when travelling with family.
The doors of more than 100 galleries are open to the public, while the world-famous stained glass windows by Marc Chagall in the Fraumunster cathedral should not be missed and neither should the Grossmunster.
Historic gems include St Peter's church, whose clock face is the largest in Europe at 8.7m in diameter, the merchant house complete with its status-symbol tower, and buildings painted ornately with the patterns of yesteryear.
The old district's buildings have been preserved in their original condition both internally and externally, so what you see today resembles how it looked hundreds of years ago.
Garrets still overhang the footpaths below, literally windows into a person's privileged life, while house names remain from when streets had no names or numbers.
Local guides provide a wealth of knowledge through the back streets, pointing out many interesting facts.
A brief glance upwards reveals a cleaver painted on the outside of one shop front, signifying it was once a butcher's, but the latest fashion labels now hang from the ancient meat rails inside.
Next door, a plaque reveals Russian revolutionary leader Vladimir Lenin was once a resident and historians have letters he wrote home, complaining of its foul smell.
A tiny door, set into a wall on one of the many cobbled walkways winding through the town is easily missed, such are the visual delights of this quaint district.
Squeeze through it into a dismal 200-metre passageway leading downhill.
With the door firmly shut behind you, you discover its original purpose: the local sewer for neighbouring households, which was swept each week to the Limmat River below.
That same river's clean, clear water feeds the town's drinking fountains today and it also features separate swimming pavilions for men and women during the warmer months.
Patronising the baths is considered a tradition, with strict enforcement of gender segregation, even for children.
Zurich's transport system is super-efficient, frequent, punctual, clean and easy to use.
A Zurich card for 24 or 72 hours provides unlimited travel on the city's trams, buses, cable-cars and ferries, as well as free entry into most museums, of which there are many, and discounts to other attractions.
Children will love the toy museum, while adults should visit the National Museum for its many treasures and soccer fans cannot pass the opportunity to visit FIFA headquarters about 20-minutes from the CBD to see the home of everything to do with "real" football.
There are many other family-friendly activities available when visiting this medieval city, including free bikes available all year round to take you to sights further afield.
Swimming and boating are popular pastimes, while cycling or hiking trails abound.
Dominating the city is the Uetliberg, Zurich's local mountain, where a viewing tower provides vistas of the whole district and where the locals come in their thousands to picnic, hike and cycle, or go sledding in winter.
A quick 20-minute tram ride, or a bike ride for those with more energy, is reward enough, but lunch at the peak's Uto Kulm, where the local delicacy of rosti, veal and mushrooms, is another treat.
No visit to Switzerland would be complete without mention of their chocolate, with one local admitting even the Swiss consume around 20kg of chocolate each a year.
The chocolate shops resemble fashion boutiques: tall glass windows, exciting chocolate displays, ample floor space and bright lighting, rivalling the high-end fashion stores nearby.
Even the non-chocoholics will enjoy watching the local chocolatier performing their art and there's always a chance of picking up a free sample before deciding what to buy.
Zurich has been named the city with the best quality of life in the world, and with so much to offer the international traveller, it's no wonder people could be forgiven for wanting to relocate here.
If only Zurich's fountains spouted free chocolate!
IF YOU GO
GETTING THERE: High-speed rail services link all European countries with Switzerland, and all major Swiss cities with Zermatt.
FURTHER INFORMATION:
MySwitzerland.com; myswitzerland.com/rail; swiss.com; zermatt.ch; raileurope.com.au; swissworld.org; swissinfo.ch
PLAYING THERE: Free museums and bike hire; Further information: zuerich.com.
- AAP