Increasing numbers of campsite holidaymakers fly to Italy, but taking the decision to drive across mainland Europe is worth the effort.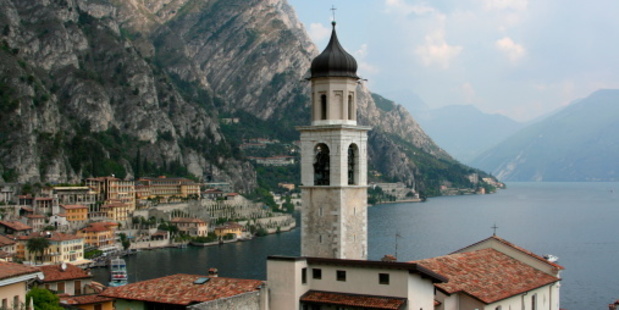 Sitting on the stone steps of the open-air Verona Arena watching Aida declare her love for Radames, I was on the verge of tears. Until my partner's son leaned over and asked: "Are they dead yet?" Sobbing subdued, I whispered: "Not yet." Well at least he was trying to follow the story.
It had taken just 30 minutes to travel to the fair city from our campsite in Peschiera del Garda on the south-east shore of Lake Garda.
The opera experience had been top of my to-do list during our 10-day visit but, at four hours long with four intervals and ending after 1am, I fretted whether Joe, 13, and his dad Dave would be bored before the final scenes.
However, despite the distraction of the occasional squeak as we moved around on the blow-up plastic cushions that were saving our derrieres, we were mesmerised by the emotional performances of the singers.
We opted to read the synopsis before the show, but others were following a printed translation with mini torches as they swigged wine decanted into plastic bottles and ate picnics.
In the afternoon we had explored the city's winding streets and beautiful churches, and eaten in a cheap and cheerful restaurant because we didn't want to cart food and drink around. Instead, we made a mad dash outside the arena for snacks and drinks during the intervals as the prices out there were half those inside.
Almost all the restaurants and cafes around Lake Garda are of a high standard, and my favourite was a chain restaurant in the centre of the lovely town of Peschiera on the first night we arrived, called L'Osteria.
We sat on the outside tables, soaking up the bustling street atmosphere. It was speedy service, with a smile, and my pumpkin gnocchi with balsamic and local cheese was divine.
Conveniently, L'Osteria was also just a 15-minute walk along the lake from Eurocamp's Bella Italia campsite, the base for our holiday.
Eurocamp celebrates its 40th birthday in 2013. The self-catering holiday specialist offers the widest selection of outdoor family holidays in parcs throughout Europe, each with a range of activities and kids' clubs.
Don't let the 'camp' reference put you off - there's a range of accommodation on offer, including stylish mobile homes, lodges, modern chalets and bungalows. Plus, fully equipped 'classic' and 'safari' tents for those that like their camping more traditional.
Our attractive campsite featured plenty of activities and facilities to keep the whole family happy, plus superb views across Lake Garda.
In our two-bed Horizon Midi mobile home we played the first of what would be many games of cards in the large dining kitchen. Towels and bedding were provided, but we opted for a welcome pack containing washing-up liquid, tea towels and dishcloths.
Ferry boats run frequently around the lake but planning is essential to avoid getting stranded, while the 45-day return for the three of us to the nearby town of Sermione - a 10-minute drive away - made me count my blessings that we'd brought the car. (Even if it didn't have air con.)
Sermione is a beautiful small town with endless ice-cream shops serving delicious offerings to keep you going as you explore the battlemented walls and 13th-century fairytale castle with steps up to a tower.
Past the central winding streets is a road leading up to a Roman villa on the peninsula. It's a good 15-minute walk uphill but worth it to see the view across the lake - and below lies the area's only mineral spring.
In the heat of the day we needed a lakeside spot for a quiet dip - and we found a perfect one about 800 metres out of town that we revisited again and again.
Almost deserted and grassy with a steep bank and much-needed shade, we wiled away a good few hours with a picnic and took it in turns on a lilo bobbing around on the shallow water.
The pebble beach on the campsite was also a decent, bustling spot but it offered little shade from the intense heat - although the inviting water helped us to cool off.
Once the temperature had subsided slightly in the afternoons we took off on adventures around the lake. One memorable jaunt was to Malcesine, an unremarkable town overlooked by Mount Baldo, which is a hive of activity from skiing in winter to trekking or mountain biking in summer.
I'm a novice in the saddle but was feeling brave, so agreed to try the four-star (out of five) difficulty route. Dave and Joe are handy on their bikes but when we got a cable car to the top and saw the narrow tracks leading to sheer drops, we all decided to push for a bit until we got to an easier descent.
An hour and a half later we were still pushing and I had blisters on every available surface - but still marvelled at the views of the lake from our elevated position. Halfway down we reached a steep road and could finally mount our bikes and swoop down towards the town. A little frightening but exhilarating.
The next day we were all aching and groaning so we opted for a sedentary trip to Salo on the western shore where, after a leisurely stroll around the large harbour, we tucked into pizza at a lakeside restaurant.
Afterwards a charismatic boat captain persuaded us to join a 45-minute excursion around the bay who explained in broken English the history of the lake's biggest island, Isola Del Garda.
He also pointed out the Hotel Laurin, a former villa where Mussolini launched a last-ditch attempt to reorganise Italian Fascism. It was our only venture onto the water but it was a delight and Joe got to wear the captain's hat and sit at the steering wheel.
After exploring all the cultural highlights, it was time to appeal to our inner children and head for Caneva Aquapark, a 15-minute drive out of Peschiera.
We'd passed the attraction several times on our travels and could see the Stukas Boom from far away, which I'd nicknamed the 'death slide'.
I had no intention of giving it a go, so I stood and watched as Dave and Joe stood in enclosed, transparent compartments before a trap door was released and they both shot down the slides at speed, screaming like two girls at a Justin Bieber concert.
Afterwards, they trotted over to me with big grins on their faces, desperate to have another go. It was like the opera all over again - only this time everyone got out alive.

- AAP