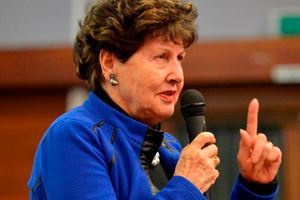 A holocaust survivor and one of the last remaining Jews to be saved by Oskar Schindler hopes her story can help prevent the horrors she witnessed happening again.
Eva Lavi, 76, was in Dunedin yesterday and spoke to pupils at St Hilda's Collegiate School as part of a national speaking tour to raise awareness about the horrors she and millions of other Jews went through during World War II.
She described how, thanks to the efforts of her mother, Fela Rac, and Mr Schindler, she was able to survive the horrors of the war when so many others - including six million Jews - perished.
Mrs Lavi was aged 2 and living in Krakow when the Germans invaded in 1939.
Her life changed drastically and she and her family shifted into a ghetto, where 15,000 Jews were crammed into an area which had housed about 3000 people before the war.
She was 8 when the war finished.
She described how, at first, she enjoyed being round so many relatives in the ghetto, but it did not take long for things to change.
Her grandparents were killed by the Nazis for being "too old", less than a week after the family moved there.
From then on, she encountered horror after horror, with the strength of her mother - who was a quiet and polite woman before the war started - helping her survive.
"When the war started, she [became] a lioness ... and she was not afraid of anybody."
An example of her mother's strength was when her father decided that due to the terrible conditions in the ghetto it was better that they swallow poison and kill themselves.
When it came time for Mrs Lavi to swallow the poison, her mother slapped it to the ground, telling her father they should keep on fighting.
Early on, her mother told her: "You have to hide, don't be visible," and she followed this advice throughout her time in the ghetto and after the family was later moved to Plaszow concentration camp.
While hiding in the camp she saw Nazi soldiers gun down a group of people from the camp, including one of her cousins. She and her family escaped almost certain death at the camp by being included on a list of about 1000 Jews transported to work in a factory Mr Schindler set up in the Czech Republic.
She described Mr Schindler in glowing terms, calling him "an angel" and recalled how when Nazi soldiers questioned why he would want Eva, a child, working in his factory, he convinced them her small fingers were perfect for making ammunition.
Later, she told the Otago Daily Times she wanted to make sure some "mad man" like Adolf Hitler did not cause history to be repeated.