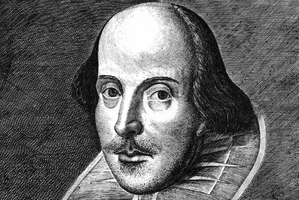 A group of 22 of the world's leading Shakespeare scholars have come together to produce a book that details what they consider to be definitive evidence that the Bard really did write his own plays.
Since the 1850s, 77 people have been suggested as the likely author, with Francis Bacon, Edward de Vere - the 17th Earl of Oxford - and Christopher Marlowe the most popular candidates.
Three eminent experts on Bacon, Oxford and Marlowe are among the Shakespeareans who demonstrate in a series of essays precisely why only Shakespeare could have written his plays and poems (apart from his collaborations).
Cambridge University Press will publish Shakespeare Beyond Doubt: Evidence, Argument, Controversy on April 18, just before the Shakespeare birthday celebrations in Stratford-upon-Avon, in England's West Midlands, on April 20-21.
The publication is co-edited by Paul Edmondson and Stanley Wells, scholars from the Shakespeare Birthplace Trust, an academic charity.
Edmondson said that Shakespeare academics had become alarmed by the spread of authorship challenges in universities on both sides of the Atlantic, including Brunel in west London and Concordia in Portland, Oregon. He said: "The University of Brunel has an MA in Shakespeare authorship studies and, as part of that, [students] could write a dissertation on why they think the Earl of Oxford wrote Shakespeare, for example. It's absolutely crazy."
Signatories to an online "declaration of reasonable doubt" - which asserts an enormous gulf between the author's life and the contents of his works - include actors such as Sir Derek Jacobi, Mark Rylance and Michael York. In 2011 the film Anonymous portrayed Shakespeare as an inarticulate buffoon and the Earl of Oxford as the covert author.
In the new book, discussing the "stylometrics", or "computational stylistic" tests, MacDonald P Jackson of the University of Auckland concludes that Shakespeare's and Oxford's poetry are "intergalactic distances" apart. "De Vere's models are of the mid-16th century and earlier, with heavy use of alliteration ... and a liking for metrical forms with long lines of 12 or 14 syllables. No Shakespeare poem is written in these metres."
David Kathman, an independent scholar, writes on Shakespeare and Warwickshire, showing how the works are "peppered" with signs that the author came from around Stratford, pointing to local dialect words such as "'batlet", a paddle to beat laundry. Charles Nicholl, a Marlowe scholar, points out that he was killed in 1593 and therefore dead when most of Shakespeare's plays were written.
- Observer