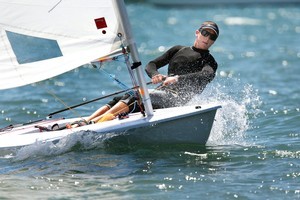 New Zealand sailor Andrew Murdoch will attack the laser medal race at the Weymouth and Portland international regatta in England holding a slim lead.
The top three laser sailors in the event which doubles as an Olympics test event are separated by just two points.
The fleet sailed the final two races of the qualifying series overnight (NZt) and Murdoch retained his lead after placing ninth and second.
Australian Tom Slingsby was able to close the three-point gap to just one with a first and eighth and Dutchman Rutger van Scaardenburg looks threatening after a fourth and first.
Murdoch leads on 48 points, Slinsgby trails by one on 49, with van Schaardenburg on 50 ahead tomorrow's medal race.
Peter Burling and Blair Tuke continued their string of top race finishes returning to the water last night after a rest day.
Just two races were possible for the 24-strong fleet in the men's high performance skiff and a handful of DNFs dotting the scoreboard for the lower placed nations was an indication that conditions were challenging.
The New Zealand pair mastered the tough condition a third and a second to retain their position in third overall behind Australia and Spain.
In the 470s, New Zealand's Women's pair of Jo Aleh and Olivia Powrie came out firing with a race win and a seventh in the second race moving them up a place to seventh overall with just the medal race to sail.
In the Finn class, Dan Slater came away with a seventh and a ninth in the two races sailed to sit eighth overall behind leader Ben Ainslie of Britain who has a seven-point margin over his closest rival.
No racing was possible overnight for the Star class because of strong winds and gusts of up to 30 knots reported on the Portland Harbour.
Jon-Paul Tobin and Natalia Konsinska have made the medal races in widsurfing.
New Zealand's current standings
1st - Andrew Murdoch: Laser (4, 5, 2, 3, 11, 4, 8, 12, 9, 2)
3rd - Peter Burling and Blair Tuke: 49er (11, 16, 3, 3, 1, 3, 9, 5, 3, 3, 2)
6th - Jon-Paul Tobin: RS:X Men (6, 6, 9, 16, 5, 11, 2, 4, 21, 1)
7th - Jo Aleh and Olivia Powrie: 470 women (21, 11, 2, 26 BFD, 3, 3, 17, 4, 1, 7)
8th - Hamish Pepper and Craig Monk: Star (5, 2, 15, 7, 10, 22DNS)
8th - Dan Slater: Finn (13, 18, 5, 2, 28OCS, 4, 7, 9)
10th - Natalia Kosinska: RS:X Women (12, 10, 4, 7, 7, 11, 12, 14, 19, 8)
13th - Paul Snow-Hansen and Jason Saunders: 470 Men (17, 16, 4, 13, 15, 33OCS, 4, 16, 11, 9)
22nd - Sara Winther: Radial (11, 26, 26, 21, 15, 25, 18, 8, 10, 50DNF)
- NZPA