Jill Worrall's trip to Bangkok took place ahead of the recent unrest.
The New Zealand Ministry of Foreign Affairs and Trade has declared Bangkok an area of 'some risk' and is currently advising New Zealanders to exercise a very high degree of personal security awareness in the city.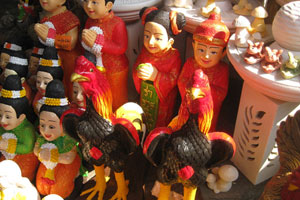 Up until now I have never managed to be in Bangkok when the Chatuchak Weekend Market is in full swing.
It's not simply a matter of timing either. To venture into this huge site with its estimated 15,000 stalls, visitors need to be in the right frame of mind.
If you are craving peace far from the madding crowds Chatuchak is not the place to be as each weekend between 200,000 and 300,000 people come to shop here.
Although Chatuchak is popular with tourists they make up only about 30 per cent of visitors.
This is a place where Thais come to shop and to browse. There's the usual array of clothing from designer jeans to knock-off football shirts as well as funky interior lights and tiny puppies, fresh fruit and furniture.
Reaching the market is a breeze these days as Bangkok's Sky Train stops right outside. It's just a short walk across Chatuchak Park, where exhausted shoppers clutching carrier bags come to collapse and eat ice creams.
It is possible to get a map and try to navigate oneself around the market following the colour-coded key. In theory, clothing sellers should be together, artisans in another spot and so on. However it is almost easier simply to wander, that is unless one has a particular purchase in mind.
I was there just to window-shop but it doesn't take very long to be enticed by the shimmer of bolts of Thai silk, shelves of blue painted porcelain or even a shop festooned with chandeliers.
Chatuchak is about people watching too. Thai boys, their jeans slung low take turns to break dance in one of the sois (alleyways) while pampered dogs are pushed along in special pet buggies.
Although I didn't really want to be strapped to anyone's chest I could see the enormous advantage in being pushed through the market, especially on a Bangkok summer's day.
If you go take a bottle of water and buy more drinks as you wander ... drink and food stalls are everywhere.
Among the souvenirs and cheap t-shirts are small shops selling upmarket furniture and innovative homewares. Of course you can buy illuminated leis of plastic frangipani but the market is also the starting place for many talented young designers and artists. It's just a matter of searching them out.
One corner of the market is dedicated to plants, including orchids in full flower and the often controversial pet shops. This is almost the only part of the market where you will see "No Photo" signs which are actively policed. Puppies and kittens pant in the heat, although a few shops have installed air-conditioning where pets gambol among a sea of toys and bean bags.
Outside one shop two girls were taking photos of their new purchase - a tiny black powder puff of a puppy that was wearing an equally diminutive tiara.
There were lizards, turtles and fish for sale too and I am told you can buy a python in here but I was happy to leave that unconfirmed.
In the past there have been complaints about stallholders trading in endangered species and as a result this section has frequently attracted the attention of organisations such as the World Wildlife Fund. One estimate is that a million native and exotic birds are sold here - the mortality rate is said to be high.
It was clear the shopkeepers here were wary of nosy foreigners so it was difficult to see exactly what was for sale behind the more mundane domestic pets which apparently can sometimes be a front for more exotic animals. But tucked away in one alley was a beautiful golden furred mammal about the size of a possum running round and round in a very small cage. What it was I don't know but I suspect the WWF would not have been pleased to see it here.
But away from this shady - in every sense of the word - corner of Chatuchak, this is a place of happy, if hot, shoppers.
Even if you are not looking for a designer lamp or a souvenir t-shirt there's the endless fascination of watching the locals at leisure.
Jill Worrall travelled to Thailand courtesy of Thai Airways and the Tourism Authority of Thailand. She stayed at the Sukhothai and Mandarin Oriental hotels.