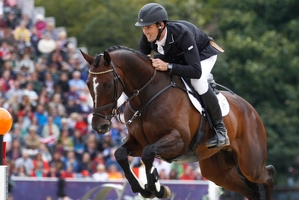 As Jock Paget and his team try to work their way through the doping nightmare which engulfed them this week, one question is paramount: how could this have happened?
Although there is widespread support for the 29-year-old New Zealand rider, Paget is facing a potential two-year ban after his Badminton-Burghley four-star double-winning horse tested positive for the banned substance Reserpine on September 8 immediately after his Burghley triumph in Lincolnshire.
It is routine for winners to be tested, as well as several other horses chosen at random. The post-Burghley check also revealed Clifton Pinot, ridden by Australian Kevin McNab, a mentor of 29-year-old Paget, had failed the test.
Clifton Eventers is run by prominent owner Frances Stead, who presented a bust of Clifton Promise to Equestrian Sport New Zealand last month.
The rider is deemed the "person responsible" for what is inside the horse.
It sounds tough.
Entourage personnel such as grooms, vets and trainers have regular access to the horses.
The problem for Paget is that the buck has to stop somewhere.
When the International Equestrian Federation toughened its doping regulations three years ago it also listed answers to commonly posed questions.
To one - As an athlete how do the new anti-doping regulations affect me? - the response was unequivocal: "... You are expected to have checked all your horses' current medications against the (Equine Prohibited Substances) list."
The updated list is far more detailed than before. The idea is to close loopholes and at the same time give riders every substance and medication to avoid.
The FEI describes Reserpine as a tranquiliser, used for long-term sedation in horses. It lists reported side effects as hypotension, reduced heart rate, increased gastrointestinal motility and diarrhoea.
In human medicine, Reserpine is used to treat patients with high blood pressure and mental disorders.
Doping instances are rare in three-day eventing, less so in endurance, showjumping and dressage competitions.
It is unusual for a B sample - expected to be tested by the end of this week - to produce a different outcome from the A result. Paget then has three weeks to prepare his case for the FEI tribunal.
The sample is stored at Newmarket, in England's racing heartland. Paget has chosen to have the B sample tested at a different laboratory from the A sample. He was to meet his legal advisers late last night (NZT).
If the B sample is positive, Paget will find it hard to escape sanction by the FEI. A suspension of some length, on the "person responsible" basis, is likely.
"We are focused on establishing the probable cause," Paget said yesterday.
If they can get to the bottom of that it could be a large stride towards easing the impending pain.
With so much at stake - and most of all his name and reputation among the country's highest sports achievers - expect no possibility to be left unexplored.