Australia, the largest polluter per capita among industrial nations, is now without a system for reducing greenhouse gases.
Australia's decision to repeal its levy limiting fossil-fuel pollution makes it the first nation to turn back from a market approach to fighting global warming.
Prime Minister Tony Abbott's government won final approval from Parliament on Thursday to scrap a levy about 300 companies paid for their carbon dioxide emissions.
The move leaves Australia, the largest polluter per capita among industrial nations, without a system for reducing greenhouse gases as it prepares to host a meeting of the Group of 20 nations.
"Australia is bereft of a credible climate policy just as the international community focuses on deeper reduction targets," said John Connor, chief executive officer of The Climate Institute, a Sydney-based environmental group. He called the move an "historic act of irresponsibility and recklessness."
The about-face sets up Abbott for a clash with Europe and the United States, which asked for climate policy to be on the G-20 agenda.
Australia's participation in reducing the gases blamed for global warming is crucial for United Nations-led climate talks aimed at establishing a worldwide emissions-limiting pact by next year.
China is considering its first absolute cap on carbon and starting a national market for emissions.
"The European Union regrets the repeal of Australia's carbon pricing mechanism just as new carbon pricing initiatives are emerging all around the world," EU Climate Commissioner Connie Hedegaard said in a statement on Thursday. The EU planned to link its emissions trading system, the largest worldwide, with the one that would have started next year in Australia.

EU Climate Commissioner Connie Hedegaard. Photo / European Commission

2015 treaty
The UN is aiming to craft an agreement in 2015 that would include 190 nations.
Scientists warn that the Earth is on track to warm more than 2 degrees Celsius since the industrial revolution, the fastest shift since the last ice age ended about 10,000 years ago.
Abbott won a landslide election victory last year for his Liberal-National coalition that he said gave him a mandate to throw out the "toxic tax" on carbon, which was triple Europe's carbon price. The government estimates the repeal will save the average family A$550 a year in lower electricity prices and make Australian companies more competitive.
Australia's climate law was adopted three years ago by the previous government. The A$25 ($23.44) a ton paid for carbon emissions was the highest in the world and raised A$7.3 billion from companies such as BHP Billiton, the biggest mining company.
While Japan and Canada have backtracked on commitments to reduce greenhouse gases, only Australia has dismantled an established carbon-tax mechanism.
'Crap' science
The prime minister, who in 2009 called climate science "absolute crap" and approved dredging of Australia's Great Barrier Reef, denied his government is anti-environment.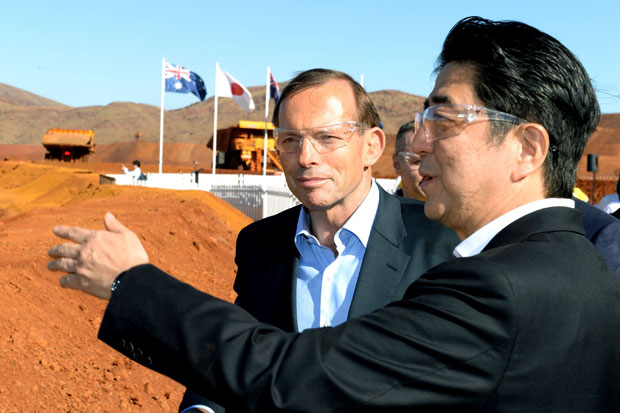 Australian Prime Minister Tony Abbott, left, and Japanese Prime Minister Shinzo Abe touring a mine in Western Australia. Photo / AP
"We are a conservationist government," Abbott told reporters on Thursday in Canberra after the vote. "We are a government which absolutely appreciates that we have only got one planet, and we should pass it on to our children and grandchildren in at least as good shape as we found it."
To replace the carbon price, Abbott has put aside $A2.6 billion for a new program known as Direct Action to reward companies that volunteer to reduce their emissions. It isn't clear he has the support to enact those measures.
He'll have to overcome opposition in Parliament from the Labor and Green parties, which voted to keep the carbon price. They say Direct Action is poorly defined and lacks the restrictions needed to achieve Australia's target of reducing emissions 5 per cent by 2020.
The Palmer United Party, founded by mining magnate Clive Palmer, controls a bloc of four votes that were critical to Thursday's repeal. It called Direct Action "a waste of money" and pledged to reject.
Policy lacking
While the government said it can start Direct Action without Senate approval, Australia is lacking a policy for reducing emissions.
"Australia now has no formal mechanism in place to reduce emissions," Kobad Bhavnagri, the Sydney-based head of Australia research at Bloomberg New Energy Finance, said in a Bloomberg television interview.
Read also:
• World carbon clean-up needs energy revolution - experts
• Obama: Climate change deniers ignoring science
Businesses need to know what Australia's climate policy will be over the long term, said Bret Harper, the Melbourne-based associate director of carbon market research at RepuTex. "This repeal of the carbon tax certainly does nothing to suggest what will be happening," he said. "I'm sure that's going to hurt investment."
The carbon price came into force in July 2012. It was fixed at A$23 per ton of greenhouse gases emitted in its first year, rising every year until it was due to shift to a market-based system in July 2015.
Global warming
Even business groups that lobbied for repeal said Australia shouldn't rule out alternative programs to encourage emission reduction, including a reinstated carbon price.
"Warming of the climate is unequivocal, the human influence is clear, and physical impacts are unavoidable," BHP Billiton spokesman Paul Hitchens said in a statement on Thursday. "An effective, long-term climate change policy framework should use a portfolio of complementary measures to reduce emissions. This should include a price on carbon that addresses competitiveness concerns."
Repeal of the carbon price is a welcome first step toward a more workable emissions policy, according to joint statement from the Australian Industry Group, the Business Council of Australia and the Minerals Council of Australia. The next steps should be approval for the $2.6 billion Emissions Reduction Fund approved as part of Abbott's Direct Action, they said.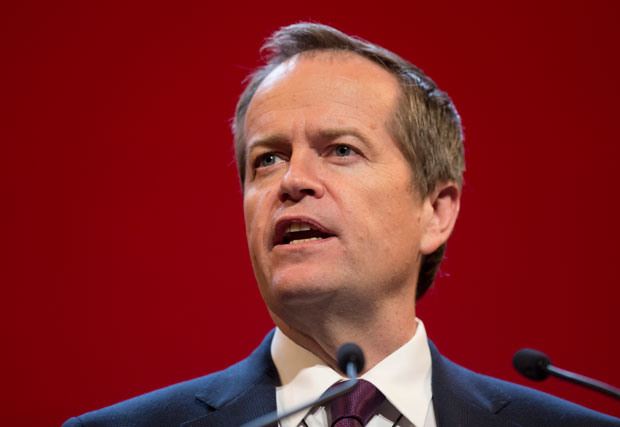 Australia's Labor Party leader Bill Shorten. Photo / Mark Mitchell
Australia's main opposition party will campaign in the next election, due to be called by 2016, to reinstate an emissions-trading system, Labor leader Bill Shorten said on Thursday.
"Tony Abbott has made Australia the first country to reverse action on climate change," Shorten said in an emailed statement. "History will judge Tony Abbott harshly for refusing to believe that action is needed on climate change."
- Bloomberg