Scientists busily cataloguing world's millions of unidentified inhabitants offer top 10 new finds.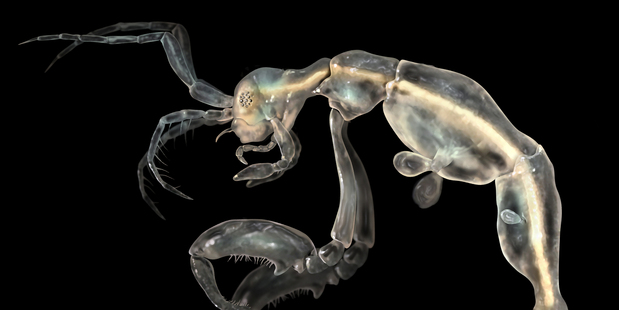 A "ghost snail", a tiny fringed fairyfly named Tinkerbell and a pale yellow sea anemone that is at home under a glacier are on an international list of the 10 top species discovered last year.
Also featured were a see-through shrimp, a hard-to-spot gecko, a not-so-hard-to-spot 12m tree, and a microbial species found in "clean rooms" where spacecraft were being assembled.
Now named Tersicoccus phoenicis, the pesky, steriliser-resistant species could have been an inter-planetary stowaway, hitching a ride into space with humans none the wiser.
The list was compiled by an international committee of taxonomists and related experts, who sifted through about 18,000 new species named during the previous year to find the top 10.
Although no New Zealand finds feature on the list, it contains bizarre discoveries made in Australia and Antarctica.
Established in 2008 by the International Institute for Species Exploration in New York, the list calls attention to discoveries that are made even as species are becoming extinct faster than they are being identified.
"The majority of people are unaware of the dimensions of the biodiversity crisis," said the institute's founding director, Dr Quentin Wheeler.
Scientists believe 10 million species await discovery, five times the number known to science.
"The top 10 is designed to bring attention to the unsung heroes addressing the biodiversity crisis by working to complete an inventory of Earth's plants, animals and microbes," Dr Wheeler said.
"Each year a small, dedicated community of taxonomists and curators substantively improve our understanding of the diversity of life and the wondrous ways in which species have adapted for survival."
The chairman of the institute's selection committee, Dr Antonio Valdecasas, said one of the most inspiring facts about the list was that not all of the "big" species were known or documented.
"One species of mammal and one tree species confirm that the species waiting to be discovered are not only on the microscopic scale," he said.
Dr Valdecasas pointed to two of the species, the shrimp, Liropus minusculus, with its "phantasmagoric appearance", and the gecko, which bore a "disturbing likeness to some imaginary monster".
"Beautiful beasts, I would rather say," he said.
View: The top 10 new species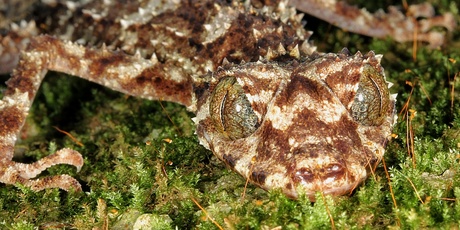 The top 10 new species
1: Bassaricyon neblina, Ecuador.
The appealing olinguito, resembling a cross between a slinky cat and a wide-eyed teddy bear, is the first new carnivorous mammal described in the Western Hemisphere in 35 years.
The arboreal carnivore - belonging to the family Procyonidae, which includes the familiar raccoon - weighs up to just 2kg and lives secretively in the Andes mountains in Colombia and Ecuador.
Its apparent dependence on cloud forest habitat means deforestation is a threat.
2: Dracaena kaweesakii, Thailand.
Sounding like something out of Game of Thrones and standing 12m, the dragon tree is found in the limestone mountains of the Loei and Lop Buri provinces in Thailand, and in nearby Burma.
With its beautiful, soft, sword-shaped leaves with white edges and cream-coloured flowers, it's hard to believe the dragon tree went unnoticed this long.
Its small number (perhaps 2500), and the fact that it grows on limestone extracted for concrete, has earned this species a preliminary conservation status of endangered.
3: Edwardsiella andrillae, Antarctica.
This species of sea anemone, living under a glacier on the Ross Ice Shelf in Antarctica, raises questions by its very existence. The first species of sea anemone reported to live in ice, it's not clear how the species withstands the harsh conditions in its habitat.
It was discovered when the Antarctic Geological Drilling Programme sent a remotely operated submersible vehicle into holes that had been drilled into the ice.
4: Liropus minusculus, USA.
This tiny, translucent shrimp, the smallest in the genus, was identified among specimens collected from an island cave off the coast of Southern California.
Only distantly related to the ones some humans love to dip in cocktail sauce, this crustacean is the first of its genus to be reported in the northeastern Pacific.
5: Penicillium vanoranjei, Tunisia.
Distinguished by the bright orange colour it displays when produced in colonies, this fungus was named as a tribute to the Dutch royal family, specifically the Prince of Orange.
The newcomer was isolated from soil in Tunisia, and produces a sheet-like extra-cellular matrix that may function as protection from drought.
6: Saltuarius eximius, Australia.
It's not easy to spot this gecko, which has an extremely wide tail that is employed as part of its camouflage.
With longer limbs, a more slender body and larger eyes than other Saltuarius species, this one has a mottled coloration that allows it to blend in with its surroundings.
It was discovered on rocky terrain in isolated rain forests of the Melville Range of eastern Australia.
7: Spiculosiphon oceana, Mediterranean Sea.
This one-celled organism is four to five centimetres high, making it a giant in the world of single-celled creatures.
The foram - part of a distinct group among the many amoeboids - gathers pieces of sponge fragments from its surroundings and uses them like so many Lego blocks to construct a shell.
It ends up looking much like a carnivorous sponge as well as feeding like one, extending its arms to feed on invertebrates.
8: Tersicoccus phoenicis, USA and French Guiana.
Found in rooms where spacecraft are assembled, this microbial species could potentially contaminate other planets that the spacecraft visit. Tersicoccus phoenicis was independently collected from the floors of two separate "clean rooms" in Florida and one in French Guiana.
9: Tinkerbella nana, Costa Rica.
The tiny size and delicately fringed wings of the parasitoid wasp family Mymaridae led to their common name: fairyflies.
Tinkerbella nana, named for Peter Pan's fairy sidekick and the latest addition to the 1400 or so known species of the family, measures just 250 micrometres and is among the smallest insects.
10: Zospeum tholussum, Croatia.
Living in complete darkness more than 900m below the surface in the Lukina Jama-Trojama caves of western Croatia, this 2mm-long land snail lacks eyes as they're not necessary for where it lives.
It also has no shell pigmentation, giving it a ghost-like appearance. Even by snail standards, Zospeum tholussum moves slowly, creeping only a few millimetres or centimetres each week.
Source: International Institute for Species Exploration, New York State University College of Environmental Science and Forestry