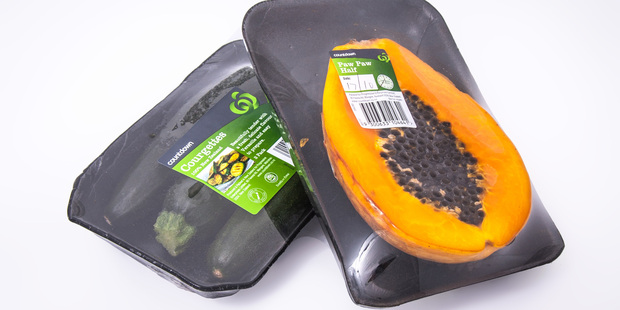 Supermarket giants have again been shamed and reusables rewarded at this year's Unpackit Awards, coordinated by Wanaka Wastebusters.
15,642 people voted during the campaign - an unprecedented total in their three-year history - raising large-scale awareness of the pain and gains that packaging can have for consumer brands.
The worst packaging award again went to vegetables served on polystyrene meat trays (which are only recyclable in Dunedin), which are wrapped in cling film (which can be recycled in less than 5% of Kiwi municipalities) and served in Countdown supermarkets, which are owned by consumer goods giant Progressive Enterprises.
The best packaging award ironically went to Rethink Reusable Fresh Produce bags, which encouragingly shows us that consumers appetite for single-use packaging is diminishing.
"It's like the Jekyll and Hyde of fruit and vegetables," said Sophie Ward, organiser of the Unpackit Awards, who was happy to say that the Rethink bags are now being sold in several New World supermarkets - which is owned by Progressive's key competitor, Foodstuffs.
From my point of view, these awards are an excellent catalyst that increases our key power as consumers to be the dictators of how companies behave environmentally. We are the ones that wield the sword as our purchasing decisions will force producers to change if they want to continue to make a profit.
Some time ago in Europe, people were told by senior politicians to remove unnecessary packaging and leave it at supermarkets.
After a while, the supermarket owners inevitably get sick of cleaning up and tell the producers that they won't sell their products any more unless they sort out their packaging problems.
This forces the producers to improve their practices and we can decide to do something about this from the ground up.
Another example, which I have discussed here before, was the campaign that persuaded confectionary giant Chupa Chups to put in place measures that would change their lollipop sticks. A small change you might think? Having picked up 9,504 little plastic lollipop sticks up from the beach during our clean-ups I would contend that this change will be significant for our environment.
So if you want to take action, maybe you should start pulling off the pointless packaging that you don't like and leaving it at the supermarket. If it continues, then start a campaign, or even easier, nominate it for the Unpackit Awards next year and use your power as a consumer to choose the products that win the prizes for the best packaging.